So THAT's where the saying Kol in your stocking comes from!
On this week's episode of The Vampire Diaries, "Catch Me If You Can," this Original blood sucker made his random presence felt, urging Jeremy not to go after the cure; nearly killing Rebekah; and compelling Damon to take out the hunter who could awaken Silas and apparently bring an end to the entire world.
If you believe in scary stories, that is.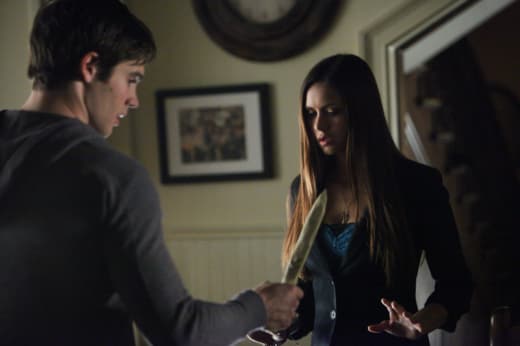 My overall reaction to the episode? Blah. It wasn't terrible, but it was certainly a letdown after a fast-paced opening few minutes. I don't feel like we ended someplace especially different from where we started.
Let's start with the same complaint I had a week ago: compulsion, schmul-pulsion. This storyline crutch has got to go. It's far too easy to have Originals just compelling their inferior vampires left and right. In this case, granted, it led to a very cool save of Damon by Stefan (you might say he arrived at breakneck speed, eh? Eh?!?), and Damon being locked in the dungeon is at least a twist in the storyline... but can one actually recognize when one is being compelled?
Damon actually warning Jeremy to run while chasing after him was incredibly lame. I'm not sure of the rules of compulsion and I'm not sure if the show is either. The writers just seem to use this whenever it's convenient.
Elsewhere, let me get this straight: Sheriff Forbes went out of her jurisdiction to take Shane in for questioning... then simply let a town citizen interrogate him... because the temporary Mayor (who had never been seen in Mystic Falls before) said it was okay?!?
Yes, we suspend our disbelief when it comes to the overarching idea of supernatural beings on TVD, but is it too much to ask for a realistic, competent police force? My eyes still hurt from rolling so often at the notion of Bonnie playing any role in the questioning of Shane.
Still, like so much on this show, the end result was intriguing: Bonnie Bennett, witch prodigy. Will she use her powers for good or grow into a ticking time bomb of pure evil?
One more complaint before I move on to the positives: Where was Caroline Forbes? Where, Julie Plec?!? What have you done with her and when will we see here again?!?!?!?
As for what I did like about "Catch Me If You Can?"
Sarcastic, uncaring Stefan. Correction: I LOVED this. It's a logical step for the character, it's a dynamite portrayal by Paul Wesley and this is one of the best Vampire Diaries quotes of the series: You don't know what I look like when I'm not in love with you.
Red. Hot. Strebekah. Sex.
The mystery of a new team in the race. As I've written about before, the general through-line of multiple teams competing for the cure is fascinating and enjoyable. It's been bogged down by sire bond nonsense and now an over-reliance on compulsion. But I'm all in on new alliances being built and new relationships being spawned as a result. So... who do you think that suicidal chap in the professor's office was working with?
Poor Matt, Least Valuable Player. It's the jacket, dude. You've gotta ditch that jacket.
An Elijah mention!
We're left with Bonnie once again flirting with dark magic; Elena actually coming up with a decent plan to off Kol and therefore his bloodline; Damon locked up; and Stefan and Rebekah getting down.
What was your favorite development from the episode? And should we really be trusting Rebekah with that headstone?
Matt Richenthal is the Editor in Chief of TV Fanatic. Follow him on Twitter and on Google+.