"Viral" built up some scary situations for the men and women of Station 51 - and just as one bullet was dodged another seemed to come whizzing by, as Cruz faced extermination, Shay dealt with an HIV scare and Clarice, and Casey dealt with his mom.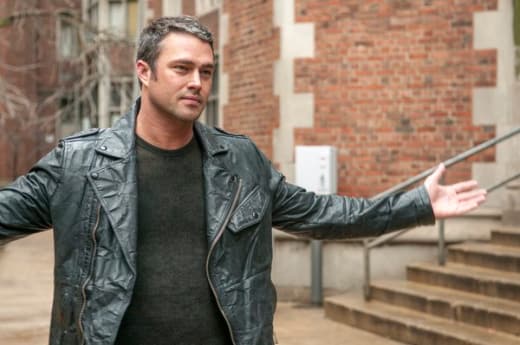 Cruz's continual death wishes, while sometimes old, did make for good story even if the way things got there weren't necessarily the most believable. Cruz is so focused on attempting to keep other families intact and functioning that his hero complex is putting Mouch and the rest of the station in danger; so I'm pleased Mouch laid the ground rules out for Casey.
Casey's scene with Cruz also reflected a different side of him. Casey is usually a man of compassion and morality, but those traits run dry if it he notices his team is being put in danger. His speech to Cruz really hit home, bringing to light events that have, up until now, felt relatively buried back from the days of the pilot. Darden's death still weighs heavily on Casey and he's not willing to risk carrying Cruz's secret if it means the death of the rest of his team.
As Chicago Fire Season 1 progresses, I've found myself enjoying Mouch more and it's in no small part to his protective spirit of his coworkers. He sees them as family, and he instinctively knows what they need and how to help them. Mouch knew Cruz didn't need vengeance he needed forgiveness.
Casey's mom is still rubbing me the wrong way. Maybe she's going through an adjustment period and she's having a difficult time reconnecting with society and her children, but at some point she either needs to focus on recovery instead of being defiant. Deciding to bunk with her old cellmate might be the best medicine the family needs. It's the first time we've actually witnessed her be a mother since her introduction; she's willing to give them space if it means she can keep the best products of her unhappy marriage together.
Shay's situation with the homeless man was very scary and I'm happy she tested clean for HIV. Sadly, I completely left my guard down - as did Shay - with Clarice. She once again dropped him with no second thoughts whatsoever and I'm hoping we never have to see her again. Shay's been slapped in the face of Clarice's exits too much, and I hope she will finally be ready to move on after Clarice's latest cut and run.
A few more thoughts:
This week in Hermann misfortune, or possible fortune, is whatever was in that box they found in the safe. 
The lawyer's characterization of Kelly is completely opposite to his character at this point.
I hope Eric comes back to visit Station 51 maybe on a more permanent basis this time?
The fertilizer bomb sure proved to be anti-climatic.