The last scene of Downton Abbey episode 306 had a sort of ominous feel to it, as if all was too right with the world.
Perhaps things at Downton will take on the tone of Lady Edith's life: just when you think things are looking up, you hit yet another stumbling block to remind you that you're not going to have that picture perfect ending.
(Before we get started, be sure to check out the Downton Abbey quotes because given the extra time and subject matter, there were a lot of great ones.)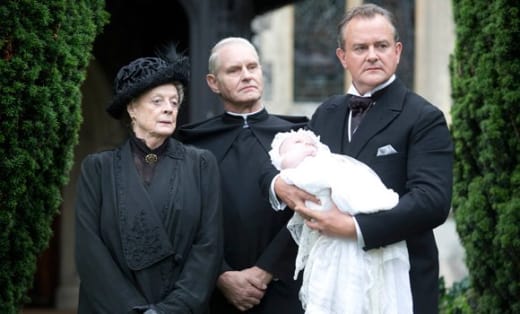 Baby Sybil finally got Christened. Tom wasn't going to give the others a chance to "behave properly" at the Christening, as he was only going to invite Mary and Matthew. Instead, even Robert was in attendance, and much to his chagrin, he was even photographed with the priest while holding baby Sybby (I'm not sure how to spell that, but it's the name Cora has taken to calling her granddaughter).
I find it interesting the way Mary treats Tom and even his brother, offering to let him stay in the house because he's family, even if he is a 'bit of a rough diamond.' Mary likes diamonds, but she still doesn't like Edith. Those moments never slip past me; when she has the chance to accept her sister in the same manner in which she so easily accepts others, solely based on their association with Sybil. Edith always gets the short end of the stick.
Edith took the journalist job writing for the London paper, and was getting on quite well with the editor. Until she discovered he was a married man. As is everything in Edith's life, it turned out to be a very complicated situation. God forbid she should find a man she could call her own, one her family might be proud of and with whom she could easily share her life.
Instead this fellow has a wife who is, quite literally, a lunatic. She'll be spending the rest of her life in an asylum and her husband isn't free to divorce her. Where that will leave Edith is up in the air, but given her past pursuits, she'll most likely go along for the ride.
Did you see that platter of meat Alfred and James fought over serving? Lobster tails, fish parts, chicken. It was the most lovely meal, which was then accompanied by sauces that we were not lucky enough to see. Just once I'd love to have the opportunity to sit at a table the likes of which was a normal nightly dinner at Downton.
Alfred and Ivy went to the pictures together, and he told her Jimmy wasn't interested at the very moment Thomas was struggling with the idea of confronting Jimmy about any possibility of feeling he may have for him. I wonder if the closeness of working in a household at that time really did create such tangled webs, or if it's all at the whim of the writers. Their lives are held captive inside Downton, with very little chance to meet others.
That one event, which lead Thomas to act on what he considered to be reciprocated desire by Jimmy, caused a crap load of discomfort and upset for the house. No member was left unaffected. From Robert to Daisy, everyone at Downton was involved in some tiny way, with Bates leading the charge to free Thomas from the hole he had dug for himself.
Miss O'Brien won The Creep of Downton award. Granted, it was a race of only two, but what she did to Thomas after all the many misdeeds they had done together was disgraceful. That Cora has kept her in her employ after so many close encounters disgusts me. As much as I have hated Thomas, I would not have wished what happened to him on anyone. To see him crying in the street after all his bravado over the years was like a swift kick to the heart.
I could have reached out and hugged Mrs. Hughes for making Thomas tell her his tale. Even more so when she spoke her mind to Carson. Maybe the log up his ass fell out just a bit once she let him know what she thought.
I had forgotten what about Bates was so compelling while he was in prison, but what he did for Thomas brought that flooding back. He always was a just a great man. It was easily forgotten during that prison debacle and nice to see him in action, putting Miss O'Brien in her place. Even Anna wondered why he felt the need, but once he felt what it was like to have everyone against him he couldn't sit back and see it happen to someone else.
It wasn't as if Robert didn't have enough to deal with at Downton without the addition of a scandal within the household ranks. With Jarvis as Robert's Estate Agent in the running of Downton, it was no surprise he was running the place into the ground. Jarvis made the Earl look downright convinced of the need to change by comparison. To have the nerve to stand up and walk away after hearing what happened to the many Earls before Robert and how they barely squeaked by with Downton safely in tow was appalling.
Violet has had some of the best ideas on Downton Abbey Season 3. She's an utter genius. While her plan for Ethel was partly based on the fact she doesn't like having to be near someone who has acted as a prostitute, sending her away with a good reference to live a happy life where no one would be privy to her past was a brilliant way for everyone to come out ahead. Isobel seemed reluctant to move forward, but Violet pushed on, placing an ad and even getting Charlie's grandmother over to Isobel's to let her know she wants Ethel in her grandson's life.
Violet's even better flash was to make Tom the new Estate Agent. Not only is he family, he works well with Matthew and has experience in the very industry they are hoping to expand into. He certainly has passion for everything he touches, and he's clearly making great strides to keep Sybil's family involved with his daughter Sybil's life.
I loved that Tom's eloquence finally convinced Robert to buy into Matthew's ideas and Tom's position as the Estate Agent – as long as he agreed to play cricket for the house. If that's all it took to get him to agree to a profitable Downton, then they should have had a cricket match much sooner!
The introduction of Violet's niece, Rose, was …. interesting. I'm not sure what the point was of bringing her to Downton. I was more interested in Robert's sister Rosamund popping up and housing everyone on their sudden. almost-daily trips to London. Downton to London is quite a trip. In modern day travel  it's about a five hour drive. It struck me as odd they all started going back and forth with so little effort.
It wasn't much of a surprise that Mary was undergoing a procedure while she was in London, given the many references to her pregnancy during the episode. I don't know why she was so afraid to talk to Matthew about it and why she decided to keep it from him. It was very good that he followed up and found her there, but I would have liked Mary to have confided in him. They've grown so close that it just didn't feel right. Apparently she will be pregnant in no time, but that still doesn't make up for keeping Matthew in the dark.
Other thoughts:
Poor Molesley was so cock-sure of himself in the cricket match, and fell apart at bat.
It was good to see how many people had Thomas' back with regard to his sexuality. Even Robert and Mrs. Hughes thought nothing of it.
It's a shame Sybil had to die for Tom to be truly accepted by the Granthams, but that seems to have been his destiny.
I really enjoyed seeing both the staff and family in the same attire at the cricket match, on the same team, as peers. 
Be sure to come back next week for the Downton Abbey Season 3 finale. That's right folks, we've already hit the end. Have you stayed away from Downton Abbey spoilers?
Carissa Pavlica is the managing editor and a staff writer for TV Fanatic. She's a member of the Broadcast Television Journalists Association (BTJA), enjoys mentoring writers, wine, and passionately discussing the nuances of television. Follow her on Twitter and email her here at TV Fanatic.