There is the great music, and there is the juicy drama - but one of the main reasons Nashville has been so good in its first season is the fact that Deacon Claybourne is just so easy to love. That was never more obvious than in "Dear Brother."
The someone-doesn't-like-celebrating-a-birthday bit has been done to death in every medium, but the same old story didn't feel so old here due in large part to Chip Esten being so darn charming.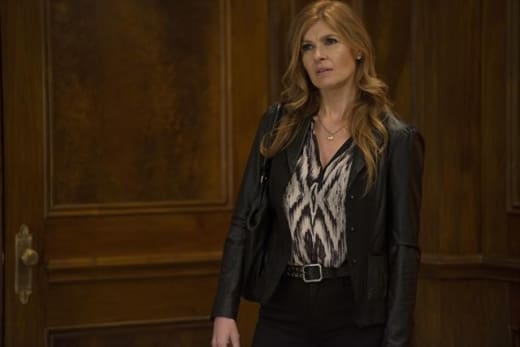 Whether it was every time he talked about watching Old Yeller on his special day, the fact that he didn't cause a fuss when he showed up to the surprise he never wanted or how concerned he was for Rayna when finding out about the divorce, Deacon was unbelievably likeable throughout the hour.
If I had Kip Moore, Vince Gill, and whoever Pam Tillis is showing up to MY birthday party, I'd be pretty enjoyable too. After smiling once again at Vinny Gill sarcastically calling Juliette "charming," let me introduce you to the rest of the band...
Juliette Barnes
Quietly, in comparison to other episodes, a lot went down for Juliette in "Dear Brother." She spent the entire hour preparing for Deacon's party, which could have been completely generous if it wasn't also a place for her to showcase her new music.
She's a complex little thing. I loved seeing how torn she was in finding her mother back off the wagon. She was upset, but was it more about Jolene's health or Juliette having to miss singing her new material?
I'm not sure I like the fact that this addiction counselor seems to be helping Juliette through some of her issues. I would have rather it be a character we already know who works with her, which would have given her emotional story about the ninth birthday party, and wanting her mom to die, more weight.
To top the hour off, Juliette gave Deacon the cutest puppy I've ever seen. For somebody who couldn't get enough of Old Yeller, he didn't seem to want that dog at all, which made the moment even funnier.
Rayna Jaymes
The intricacies of Rayna's marriage and now divorce have been much less interesting than her musical career.  As much as I feel for her eldest daughter, and what those kids are going to go through, the emotional severity of the situation never really landed.
I was much more taken back by the musical performance at Deacon's party. Connie Britton has become very good at pouring her heart into a song on screen. With momentous events like Juliette taking care of her mother and Gunnar identifying his brother going on during it, that was easily the best musical moment of the night.
Teddy Conrad
So we are back to the political game, huh?  He's appointing Peggy to some job, he's making Coleman his deputy mayor... and I couldn't care less about any of it. Unlike with Rayna, Teddy's trials and tribulations with Rayna have been the most interesting thing about his character. Please don't bring the politics of it all back into the foreground. We were so happy with it taking a back seat!
The Kids Club
Many of you may enjoy yourselves some Gunnar or some Scarlett, but I have never connected with either of them. I wanted to care about what was going on with Gunnar and his brother, but I never did. It all felt a bit forced to me, so when Jason turned up dead, I thought "oh well...moving on."
Avery, on the other hand, continues to interest me. I think Jonathan Jackson is doing a terrific job. In the smallest of scenes, like asking Watty White for advice in the guitar shop, or staring into the Blue Bird in pain, Jackson tells us so much about Avery. The kid is at a huge crossroads in his life, and I can't wait to see where he goes next.
-------------
What did you all think of "Dear Brother?" What were your favorite moments? Did you have any least favorite moments? And what movie would YOU watch every year on your birthday?
Dan Forcella is a TV Fanatic Staff Writer. Follow him on Twitter.