What would an episode of 90210 be if Naomi and Annie weren't trying to interfere in or control someone's life? In "Life's a Beach," the ladies went head to head about getting involved in their newfound half brother Mark's world.
This guy has definitely gotten a crash course in life with sisters, that's for sure!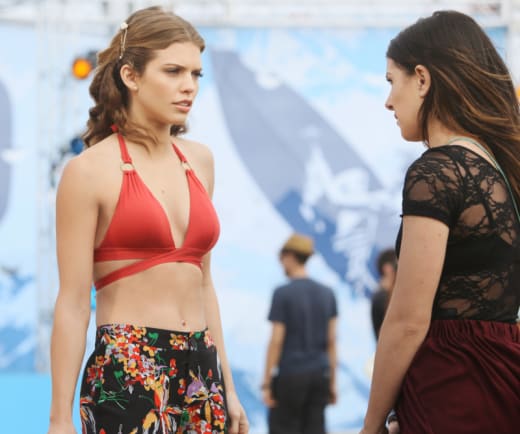 Annie randomly got Mark an amazing interview at a hot restaurant in NYC. Naomi was pissed because there was a possibility that her long lost half-brother could be taken away. This is her only sibling. Who else is she supposed to bond with? Jen Clarke?!? No thanks!
Naomi used the best tool at her disposal: sexuality. Obviously she isn't going to flirt with her brother because, ewww, but it seems he had eyes for Adrianna so that could work. Now all she had to do was flatter Ade, get Mark to her house, put Ade in a bikini and heels and find a way to make a quick exit. Hormones would take care of the rest.
Leave it to Naomi to contrive some totally absurd situation and somehow get away with it. Can we just talk about this bikini and pumps thing, though? Nobody does it unless you're Brandi Glanville, so let's just stop.
Annie, on the other hand, uses her self-righteousness and tries to get to Mark to rat out Naomi. Annie is always right, right? Obviously both of these plans led to more squabbling, which freaked out their new bro. Luckily, Mark had Liam to talk some sense into him. He's staying because he wants to, not because his sisters meddled. Don't these girls ever learn?
Maybe the reason we fight like we do and we can say anything to each other, which we normally do, is because we're like sisters. | permalink
Well, that was a very sweet sentiment from Annie. These two have come along way over the last five seasons. I think the person who got hurt the most out of their fighting was actually Adrianna. How would you feel if you heard your best friends talking a bunch of smack about you? Regardless of the truth to it or the apology they later gave, that still hurts like hell. I only hope her pact with Silver holds up.
Silver has something else to focus on because Michaela is finally officially pregnant! She also just directed a cheesy but likely to be popular music video with Dixon and Michaela. Is it me or is The CW obsessed with group dance or performance numbers lately? I'm so glad Silver was able to make things up to Dixon and now hopefully they can both achieve their dreams.
Dixon got his music video and Liam could have a hit on his hands with his surf shop. Navid did snag an awesome trainee job but there's also the problem of Campbell and the Cronis guys who are going to place the blame of test tampering and cheating on him. Thank goodness Liam overheard what Campbell was planning, but will they be able to stop it?
Since we got the news that 90210 is going off the air after 5 seasons, I think we should spend these last episodes listing what we will miss about the show. I will list one thing each week, starting with the most obvious: I will miss Liam Court's abs.
How about you? What did you think of this week's episode and what will you miss?