The Top 10 girls of American Idol season 12 threw down the gauntlet last night, and tonight the Top 10 guys will attempt to answer the challenge. And what a big challenge it is.
Can the guys match the girls' talent? Let's find out now...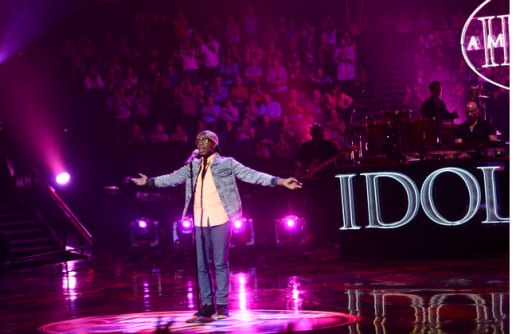 Elijah Liu starts the night with Rihanna's "Stay." It's a bold move to take on a song currently receiving so much airplay, and one written for a female voice at that. It starts off really nicely, but he's not very dynamic during the performance. He plays it safe and doesn't show much of his range. Keith thought the song suited Elijah's voice and showed control. Nicki loved it and still wants to have Elijah's babies. Randy felt the performance was flat and didn't really go anywhere compared to his performance last week. Mariah thought it was one of his better performances and liked his decision to choose a song with intimate lyrics. i'm with The Dawg on this one. 3.5/5
Singing Bruno Mars' "Locked Out Of Heaven," Cortez Shaw takes the stage next. There are some nice moments, but it feels like he's chasing the tempo the whole time. And here's part of the trouble. Glee did this song and recently. Compared to that, and compared to Cortez' past performances, this isn't up to par. Keith said he had a great spirit but picked the wrong song. Nicki could tell that Cortez enjoyed his performance, but wants him to find a new stylist. Which is unrelated. Oh, and she said he seems to be straining to hit the notes. Randy agreed with her. The key is a half-step off. Mariah makes a fair point when she thanks him for picking an up-tempo number and also agrees that his key is consistently wrong. 3/5
Self-proclaimed "awkward turtle," Charlie Askew performs "Mama" by Genesis. It's every bit as bizarre as he is. He shout-sings and hits some strange notes and screams a little and it's just bizarre. He's the guy's answer to Zoanette. Keith calls him disingenuous and believes he'd be better as a singer in a band. Nicki thinks he's trying too hard to be a different Charlie. Randy felt the song and the performance were disconnected. Mariah doesn't pile on with the negativity and says she enjoys him as a person and the diversity he brings to the group. 1/5
Nick Boddington takes a seat behind the piano to sing "Iris" by the Goo Goo Dolls. It's beautiful. Simple, understated, and vulnerable. The imperfections in the middle of the song added to the character of the performance. Keith loved that he returned to the piano and loved the vulnerability. Nicki thought he did a great job, but wished he had kept the melody true to the original. Randy, however, liked that he put his own spin on the song and stayed true to himself. Mariah felt he came into the song in the end and hopes America will look at all of his performances when they decide to vote. There may be 6 guys left to sing, but this was easily the best performance of the night so far. 4/5
Burnell Taylor closes out Idol's first hour with "I'm Here" by Idol's own Jennifer Hudson, which was his original audition song. Nick might have given a strong performance, but Burnell basically restarted the night. There's an ease to his singing that is breathtaking. He's got control and dynamics and range and everything about him screams "I'm a winner!" Fantastic performance for Burnell. Keith compliments him on having his own sound already. Nicki calls him one of a kind and says he was born to sing. Randy said he was captivated from the first note. Mariah loved that he sang the song again and showed his emotion to the world. 5/5
Tennessee boy Paul Jolley is trying to step into the spotlight after being a back-up singer. He sings Blake Shelton's "Just A Fool" and does an excellent job. There's a rock-country vibe in his voice and the song allows him to show his vocal skills. Keith felt like he went in and out of believability but thinks he can make it in country music, even after he says he wants to be the male version of Taylor Swift. Nicki thought he gave a solid performance and advised him to listen to Keith. Randy says he has great moments in all of his performances and he's waiting for them all to come together. Mariah just said what everyone else said, including that he should listen to Keith if he wants to sing country. 3.5/5
Lazaro Arbos tackles Nina Simone's "Feeling Good" with slight infusions of Michael Buble. It's not his best performance and it's not his worst. He bobbles some notes and seems to lack a little confidence in a few spots, but it's not the worst performance of the night. Keith acknowledges the way the audience lights up when Lazaro sings. Nicki compliments him on his confidence and adding his personality into the song. Lazaro gets the first "in it to win it" of the night from Randy. Mariah actually gives a solid critique about where Lazaro's sweet spot is vocally--his mid-range. 4/5
Here to take us to church is Curtis Finch Jr. with "I Believe I Can Fly." The theme song from Space Jam. But it doesn't even matter that it was the theme song from a movie about Michael Jordan and Bugs Bunny because Curtis Finch Jr. SLAYED it. When he goes on that stage he pours every ounce of himself onto the stage. (Sidenote: When Joshua Ledet did this last year, I didn't like it, but when Curtis does it, I do. And what's weird is that Curtis seems to feel less genuine that Joshua ever did, so I really have no idea.) Keith loved it. Nicki praised it and said his talent came from a higher power. Randy said he was actually the start of the night. Mariah urged America to vote for Curtis and said he has the ability to lift negative energies. 5/5
Devin Velez got props from the judges for singing in Spanish last week. This week he sings Perry Como's "It's Impossible." He's got a really solid voice, but the performance was a little loungey and slow and old. I need him to sing a newer number with a faster tempo in order to form a better opinion of who he is as an artist. Keith loved everything about it, as did Nicki. Nicki also loves everything about Devin and called him a Spanish Ken doll. Randy and Mariah both called it incredible. All the judges gave him credit for his vocal talent and the flawless and effortless runs he was able to pull off, as well as for switching between English and Spanish. 3.5/5
Closing out the night is Vincent Powell. He takes on Boyz II Men's "End of the Road." Because the song was written for a quartet, there's something lost when it's sung by only one person. Vincent has had moments so far where it's clear that he's talented, but none of those moments were tonight. The end was just awkward and weird. Keith thought Vincent's nerves got the best of him. Nicki thought he picked a bad song. Randy thought he overshot everything. Mariah said there were moments of brilliance and that it was "beyond." What a dud to end the night. 2/5
The most talented guys in this competition, as I see it, are Curtis Finch, Jr. and Burnell Taylor. The two of them will sail to the Top 5. The other three slots are much, much harder to determine because America is a fickle voting machine. I want the remaining three slots to go to Nick Boddington, Cortez Shaw (even if tonight's performance wasn't his best), and Elijah Liu. I could see Devin Velez or Paul Jolley making it another round or two, too, and think America could vote that way. 
We'll find out tomorrow night as the Top 10 contestants, guys and girls, are revealed!
What did you think of the guy's performances tonight? Do they have what it takes to stand up to the girls? Who would you put in the Top 5?
Miranda Wicker is a Staff Writer for TV Fanatic. Follow her on Twitter.