Californication Review: Party Like a Rock Star

Chris O'Hara at .
On last week's Californication, Atticus's inspiration had run dry - that was, until a near death experience put a spark back into the air.
This week, Hank and Charlie returned home to find Charlie's house trashed as a result of Becca trying to find some inspiration of her own. When Hank tried to play parent and lecture Becca about the dangers of drugs on "The Dope Show," she brought up his own creative process and threw it right back in his face. 
Despite all Hank's shortcomings as a parent, Becca still looks up to her father for his many talents as a writer. So it should not have come as such a shock to see his daughter headed down the same path he took, in her search to find her own words. Tiier conversation had all the makings of an Anti-drug PSA...
You all right? I learned it by watching you!
Though Becca should also know this by now: that her father has always subscribed to the "do as I say, not as I do" guide to parenting and will never stop trying to shelter her from the mistakes he himself has made in the past.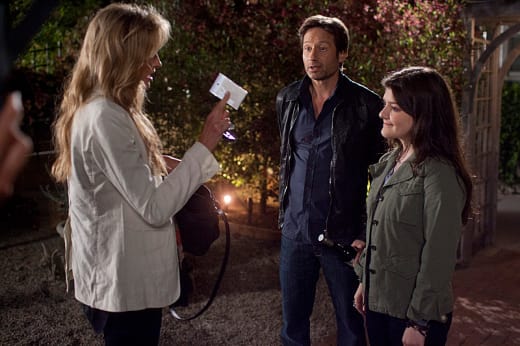 It was nice to see the two of them arguing like old times, complete with Karen in the mix as well. The scene where the three of them piled into their car and raced away from Atticus's house was reminiscent of the Californication Season 1 finale where they fled Karen's wedding ceremony together. I think that was what Hank was referring to when he mentioned to Becca how for a brief moment tonight, "Everything was right again in the world."
If Hank is serious about getting back the person that he wants "to have everything to do with," he should take the advice Housewife Hanna gave Charlie. Natalie did come on hard to Hank, but just once he could dispense with the "breast exams" and not jeopardize this job for Karen. Such restraint would go a long way to showing her how serious he is about wanting her back. What Karen is all to well aware of, though, is that some things never change and Hank is one of them. If it isn't Natalie, it will be Faith or some other woman, derailing their relationship's recovery. 
The issues facing Hank and Karen are not unlike the ones that will continue to plague Charlie and Marcy's relationship. Awkward as it was to watch the two of them make up and make out over a sleeping Stuart, I liked that Charlie really seemed focused on trying to reassemble some sense of familial normalcy for the sake of his son. Normal just is not in Charlie's repertoire, as shown by his encounter with Hanna this week. He is a creature of habit like Hank. They don't deny themselves any impulse.
Love is compromise; the tricky part being how much of yourself do you sacrifice for the greater good of the partnership. I think Hank was most afraid of Becca compromising herself too much with drugs and alcohol, and drowning out any voice of hers she had inside.
It is indeed possible to create great art without killing yourself, however. Hank is proof of that. Becca was spot on when she told her parents that they had it easy with her. While I'm glad Hank confiscated her souvenir bag of cocaine, from her run in with Marilyn Manson, she certainly has earned some trust on her parent's part. It will be interesting to see what kind of reaction she gets from Hank with regard to her book.