Welcome back, TV Fanatics! After a few weeks off, Castle returned with "Scared to Death," a lighthearted episode to follow up the intense two-parter we had just enjoyed.
Ready to discuss?
The Ring? On a fun play off of "The Ring" movie, the weekly case dealt with the death of victims who had received a mysterious package containing an evil DVD. Not going to lie, kinda freaked me out a bit. I definitely asked myself, "are they showing these clips again??"
I can't blame Espo and Ryan for not wanting to watch it either! Leave it to the genius of Rick Castle to figure out such an odd link between the victims. This was an enjoyable hour filled with laughs to follow up from "Hunt."
The only thing that threw me was that there was no mention of what they had just been through. Not a word about Alexis or his father. I get that this is a series that has a weekly case and a smaller back story that continues week to week. But, seriously, your daughter was kidnapped and taken to another country. You met your father, the spy, for the first time. Nothing to say about either?!?
Regardless of that, the installment was fun and enjoyable. Of course, in an episode filled with horror, Wes Craven would make an appearance. Must be good to be Castle. Being friends with the king of scream has got to be fun.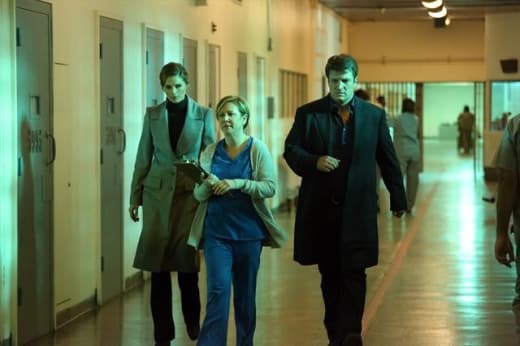 Side Notes
Who else was creeped out after watching the DVD Clips? It seriously was like watching The Ring all over again.
How creepy was the serial killer's brother? I'm with Castle: if I ever see that guy on the street, I'm crossing to the other side.
What did you think, Castle fans? Did you enjoy "Scared to Death" or was it a bit of a let down after the incredible two parter of the season?
Sound off in the comments and let us know what you thought. Make sure to check out the Castle Quotes page and the official TV Fanatic Castle Round Table later in the week.

Until next week, enjoy this look at what's to come: