The mystery behind J.R.'s death may have been "J.R.'s Masterpiece" - but it was his funeral that brought me to tears.
I've watched J.R. Ewing on my TV since I was about 8 years old, so Larry Hagman's portrayal of this charming, dastardly scoundrel will forever be seared into my memory. My only unfulfilled wish for this episode was that I would have loved to see clips from the original series, but maybe we'll be graced with that in the future.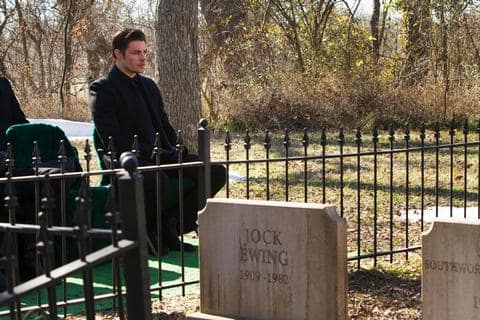 Bobby, Sue Ellen, John Ross, and Christopher traveled to Mexico to identify J.R's body. Yes, it's definitely him but what the hell was he doing in Mexico when he was supposed to be in Abu Dhabi? Thankfully, some of those answers were revealed.
But first we saw everyone react to his death. 
John Ross was almost inconsolable. His daddy's dead and he was right when he ranted to Elena in this Dallas quote that...
 Half of these people are here to make sure he's really dead. The other half are here for the free drinks. | permalink
I'm sure some were there to pay their respects but there were plenty of gawkers and gossipers in that crowd and that's hard to swallow when you're mourning someone you love.  Perhaps that's why John Ross took a little help from Emma.
Speaking of Emma, Ryland's little girl soon showed she wasn't the sweet innocent she appeared to be. How much bad girl is in Emma Ryland is something I'm sure we'll find out in episodes to come.
Christopher did his best to be there for his cousin and I liked him more than I had all season. He even stood up to Uncle Cliff, telling him he was a Ewing, not a Barnes. Cliff couldn't have been happy to hear that. The petty little man even had the nerve to taunt John Ross at his father's wake.
Cliff: I wish I had killed your father but somebody beat me to it. | permalink
The truth was that Cliff never had the guts to do the job but the old man's heart seems to have hardened as he's gotten older. I was a little surprised he left when Pamela asked him.
Sue Ellen broke my heart. Despite all the lying, cheating, manipulating, and general dirty deeds, she loved J.R. and he loved her. It certainly would have been fun to watch the old scoundrel try to woo her one more time. I really wish we had gotten that opportunity. I'm sure Hagman's death cheated us out of many great story lines.
When she took that first drink, my heart sank. She'd been sober so long, but at the same time her reaction seemed inevitable. Love or hate him, J.R. Ewing made Sue Ellen the person she is today. Losing him was like losing a part of herself. It will be interesting to see how the show deals with her fall off the wagon this time around.
Bobby's reaction reminded me a lot of Miss Ellie's when Jock died. She was so stoic, determined to handle it all until the dam burst and she couldn't hold it all in anymore. 
The difference for Bobby was that he couldn't hold back his anger at Annie. She'd lied to him for seven years of marriage about things that made her who she was. He had to learn about her secrets while sitting in a courtroom. 
Annie made him feel isolated and insignificant. He had every right to be furious and it was about time he told her so.
But that pain didn't come close to the pain of losing his brother.  Bobby was the good son because J.R. was the bad one. They always knew their roles. It's been that way Bobby's entire life. They were always the two brothers who took different routes to obtain Daddy's approval. With J.R. gone, Bobby's very foundation has shifted.
I loved the brawl at the funeral, I only wished it had lasted longer. I also couldn't have been happier that we got some answers about J.R.'s master plan.
But why was he tracking down the original Pamela Barnes Ewing? He hated her and couldn't have been more thrilled when she left. Why was she suddenly a threat now? What dirt had J.R. dug up on Ryland and most importantly, Who Shot J.R.?!?
Much the way Jock's legacy shaped story lines throughout the entire original series, I have no doubt that J.R. will live on to wreak havoc in Dallas for years to come. His death has already pulled the family together in a way that wouldn't have seemed possible just a week ago.
As Christopher told John Ross…
Ewings take care of Ewings. Always. | permalink
The effects of J.R.'s master plan are far from over.
C. Orlando is a TV Fanatic Staff Writer. Follow her on Twitter.