Justified Review: Who is Drew Thompson?
Jim Garner at .
A lot of things came out in the open during "The Hatchet Tour," but only in a way that could happen in Harlan. Here's a rundown of the key takeaways from this evening's Justified:
Drew Thompson Revealed: The biggest reveal of the night was that Sheriff Shelby Parlow is really Drew Thompson. Many of us suspected it during last week's Round Table, so I wasn't really surprised when Shelby sat down with Hunter in the car.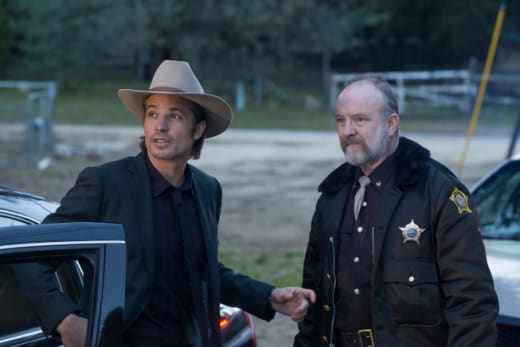 What did surprise me is the loyalty that Shelby/Drew inspired in so many people. Arlo went to his grave having killed someone to protect him. Hunter killed Arlo and tried to kill himself to protect him.
Hell, even his ex-wife seem to avoid picking him out of all the men in Harlan when she was asked too. Few men command that type of loyalty and respect. Kudos to you Shelby/Drew, I will miss ya.
Boyd Learns Ellen May is Alive: Of all the ways I thought that Boyd might learn that Ellen May was alive, having Cassie show up looking for her was not even on my radar. That of course got the ball rolling for Boyd to also learn that Colton has been lying.
Boyd Learns Colton Has Been Lying: It's tough to learn that someone you trust has been lying to you. I'm guessing this is made worse when you are a criminal kingpin and that person is your chief enforcer. I wonder if Johnny will now be taking Colton for "a drive" or if he is just being voted out of the gang.
I feel for Johnny, he was damned if he did and damned if he didn't. Had he come forward sooner and said Colton was lying, Boyd would have thought it was a power play. He came forward about the only time he could without Boyd becoming too angry. I hope Boyd apologizes to Johnny so they can go back to being on the same side.
Constable Bob Saves the Day: I know there are many people (looking at you Dan) who really like Patton Oswald as Constable Bob. I'm not one of them. Three grown men have a shootout, one with an automatic weapon, and NOBODY gets hurt? This is clearly there for comic relief, but I prefer the satirical humor this show is so well known for.
Just to rub salt in the wound, wouldn't you know it, Bob has had the missing piece of the puzzle the whole time and it led to Raylan figuring out that Shelby was Drew. Of course he would have also figured it out 10 minutes later when he walked out to the car and found Hunter lounging in the back.
Overall, it was a well-woven story and a great episode. I'm giving it 4.5 shots of Bourbon for answering so many questions, yet creating so many more. 
Jim G. is a TV Fanatic Staff Writer. Follow him on Twitter.