Sure, the execution of "Bag Lady" didn't knock it out of the park for me, but "Cuckoo's Nest" was a hilarious follow up episode - with plenty of charm, humor and enough moments that you can't believe happened - to make this one of the best of Legit Season 1.
Placing Jim inside an adult care facility to "help out" was a genius idea because it sounds like it would go horribly wrong. At the same time, using that new-found assistance to initiate a competition with the disabled patients in order to win the affections of the hot caretaker was so wrong, it was right.
Team Billy or Team Jim?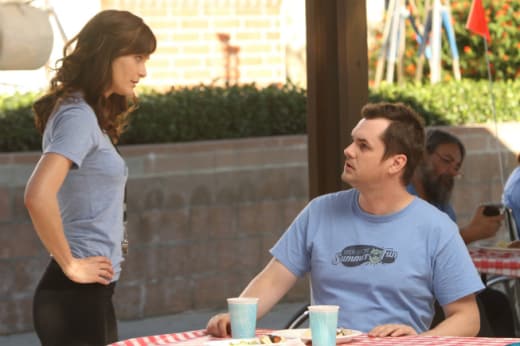 I really enjoy both these characters, and it was clever pitting them against each other. They've usually been on the same side with most things, more often making fun of Steve, but here was something we hadn't really seen between them.
Then again, vying for the love of a beautiful woman is classic, even if the way Billy and Jim went about it was all sorts of wrong.
Jim did have Rodney on his team, who was fantastic in continuing to run his egg until it was done. I loved the music that was clearly a reference to Chariots of Fire, as much as it was funny seeing him all over, from the abortion protest to the homeless guys to coming out of the bathroom. Even Steve just missing him turned it into an enjoyable game of "Where's Rodney."
That said, Billy had a great crew of guys eager to crush Jim's dreams of ever getting with the pretty nurse. Each one had their own personality that wasn't utilized in a demeaning manner. There were plenty of great shots of each of the characters cleverly following Billy's orders or even expressions of glee with their victories over Jim.
I have to say I loved the guy obsessed with pudding. It was a laugh out loud, shocking moment when he smacked Jim in the face for taking his pudding. Similarly, it was a great way to end the episode with him chasing Billy down the halls because Jim convinced him Billy took all the pudding.
Billy was definitely a master manipulator and hustler this go around in his efforts to thwart Jim. Not only did he corner Jim in the bathroom with his gang, used the scary voice, having his friends give the "I'm watching you look," but he also cheated at the brain game because they've watched the episode so many times.
There really was so much to make you laugh this episode because of the fun, the competition and the fact that both Billy and Jim were using any means necessary to be victorious.
Of course, having all the parents verbally attack Jim at the end was the obvious outcome, and Billy adding that Jim used the "R" word was hilarious. That guy would stop at nothing to prevent Jim from winning.
But in true Legit fashion, the positive arises from all the negatives that seem to follow Jim, as he gave a true speech about all the disabled people at the facility not being children but being "stronger and tougher than any of [us] think." It was great to see him acknowledge it, as it was humorous that through it all, he winded up getting the date he wanted along with that last minute revenge on Billy.
I did miss Steve participating in the antics, but there was so much going on between the war of Billy and Jim, that his smaller role worked out. At the same time, the pacing worked well in never dragging anything out, giving each scene the right amount of time with well placed jokes and reaction shots from everyone.
I'm sure there's always a worry that handling a topic about disabled people could crash and burn, especially in a comedy where the jokes could turn into just making fun of them rather than making them a part of the story. Legit nailed it, though, allowing it to be just enough inappropriate that it was as sweet and genuine as it was funny. Definitely a favorite of the season for me.
Sean McKenna was a TV Fanatic Staff Writer. He retired in May of 2017. Follow him on Twitter.