One of the reasons I've really enjoyed Legit has been that despite the characters' mishaps and flaws there has still been an endearing quality about them. More so, the situations themselves have been pretty basic but relatable enough from losing weight to taking an airplane trip to becoming a role model.
While this particular episode did make me chuckle a few times, it really turned into an over-the-top adventure that stepped further away from the exaggerated reality it does so well in.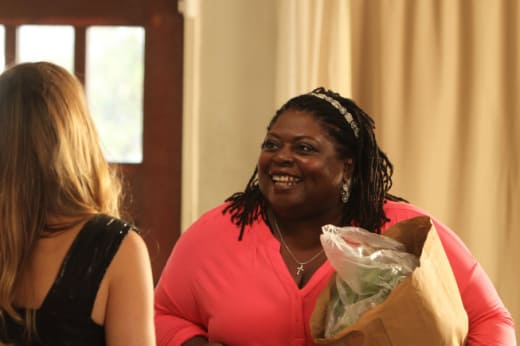 I really wish we got some more scenes with Jim's comedian pals Brad Williams and Lachlan Patterson. They had such short screen time, but already from their quick interactions and party participation, I was eager to see what else they could get involved in. I hope that they come back again.
Instead, the episode switched gears letting Jim hook up with famous and attractive Jenny from the show "Hey LA!," who also happened to be married to a congressman. Zaniness ensued from the revelation, complete with figuring out an escape plan from the pestering paparazzi stationed outside Jim's house.
It was rather humorous seeing Steve holding Billy which I can only assume was either helping him use the bathroom or getting him into the shower. It's certainly commitment from actor DJ Qualls to bare his bottom on TV, as it was Dan Bakkedahl to even hold him and his naked lower half. I can only imagine how many times they had to do that particular scene and keep relatively straight faces.
I even enjoyed getting to see the variety of characters come together to watch Jim and Jenny hatch their plan. It's the first time we've ever seen Steve's ex-wife and his kid, along with everyone's favorite nice guy, Todd.
Steve's ex-wife was like a bitchy shark on the hunt for control, but Todd was hilarious in fist bumping Jim and getting excited at everything going on. Everybody likes Todd, and it was easy to see why.
Even seeing Ramona get involved and pretend to be Jim's wife, (Jim does make up a lot of stuff, doesn't he?) made me laugh. Certainly watching Ramona make Jim kiss her before he left with Jenny in the bag was a nice added touch.
And while putting Jenny in said suitcase and making her the "Bag Lady" of the episode was silly, it was initially so outlandish that it worked.
But it soon became a joke that went on too long, bringing in Steve's repetitive speaking buddy from work and alluding to something darker involved as its own joke, before continuing it even more when a police officer pulled Jim over.
Jim's facial expressions and little sentences added while being questioned was funny, as was using poor handicaped Billy as an excuse, but I wish maybe the suitcase bit wasn't necessarily a majority of the episode.
Topping it all off, wasn't even a happy ending with the show's usual fun and unexpected twist. Rather Peggy left Jim and deservedly so for his cheating. At least before he was just an ass with a heart, but here Jim took a step too far leaving it hard to even feel sorry for him that Peggy was gone.
I know Jim's demeanor can often lead him to being something of a jerk, but a jerk we can root for. Maybe if he hadn't slept with Jenny, or was too drunk that he couldn't follow through, it would have at least made getting Peggy back a chance or even easy to side with Jim.
I guess you can argue that Jim has been seeing other women on the side, but I think because Peggy has been on multiple times and she hasn't been a bad person makes it pretty easy to pick her side, even if I want to join Jim and his buddies. It's true, they do seem to have a lot of fun.
Maybe Jim is better as the single character and that was the point of trying him out with Peggy but realizing that he works more as the party guy who gets with plenty of women. Or maybe the entire ordeal will lead to Jim trying to be a better person, one of the main ideas behind the show, even if it doesn't always work out the way intended.
It was certainly a different direction to take and fair in its endeavors, but no where near the same level of humor that an episode like "Love" (one that was even mentioned in this episode) contained.
I still really enjoy the core trio, and Ramona is stepping her game up to make it a solid four, but I'm looking to see Legit get back to having those characters involved together in a circumstance that isn't as overly outlandish. They can be just as funny, if not funnier, when taking part in those simple situations gone awry.
Sean McKenna was a TV Fanatic Staff Writer. He retired in May of 2017. Follow him on Twitter.