After the harrowing situation of watching the Gallagher siblings get carted off by DFS, Fiona decided it was time for her to take matters into her own hands this week.
In "A Long Way From Home," she finally took the long-coming step of filing for custody of her younger siblings.
Despite the fact that Lip and Ian are basically almost 18 and fully take care of themselves, they were included in the custody filing. That means five kids. Jimmy wasn't too thrilled to say the least.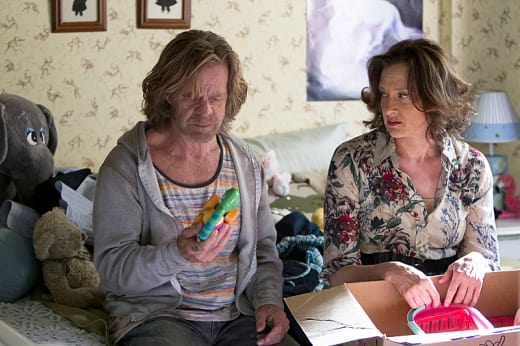 Then again, Jimmy had a family issue of his own to handle. With the INS performing random check-ins, Jimmy had to run home, slip on a wedding band and play dutiful husband to Estefania. Apparently Estefania thinks that Jimmy is responsible for other issues, such as lovers being unable to finish her off. Might I just remind everyone that Fiona has NO idea about any of this. 
It's only a matter of time until Fiona finds out about Jimmy's double life, but with all she has going on, Jimmy hasn't been her first priority. He wasn't exactly thrilled about the idea of her getting custody. He loves the kids and he takes care of them, but making it legal is a totally different situation. It's concrete. And as the judge pointed out to Fiona this is permanent for at least 16 years. Fiona is looking out for the best interest of the kids, but what about herself?
The bottom line is that no one else in their family is fit to take care of them. When Carl testified that Frank got him into camp, he failed to mention that it was because Frank told him he had cancer and defrauded a Make a Wish type foundation. Same with Debs leaving out how she beat Frank with a pillowcase full of soap bars after he ruined her class project and let his drunk friends piss on her floor.
Fiona is now a legal guardian but Frank retains his parental rights. What about the house? Patrick Gallagher filed a will and Lip is keeping that little fact to himself. At least the kids are finally home. When you have to drug your foster parent and do child labor to get food and toilet paper, things are NOT good. Another custody situation that arose this week was Hymie's father's family popping up. 
Although Sheila was heartbroken about handing over Hymie, she knew it wasn't a good environment for a baby anymore. Jody's sex addiction was back full force. Cue the intervention.
Jody, when you tried to get me to be intimate with three of your friends, it made me feel sad. | permalink
Then there was the big moment that half of you readers predicted: Karen is back! Personally I never liked her but I know that some of you did. I think we can all agree that she looks like crap. I wonder if she changed and I'm really curious what will happen when Lip sees her.
What did you think of this week's Shameless? Were you blown away by Emmy Rossum's acting in the courtroom?