Stephen Amell Previews Return of Arrow: Flashbacks, Gadgets, Love Triangles and More!
Jim Halterman at .
The final four episodes of Arrow Season 1 kick off tonight, as viewers will be treated to consecutive new installments up through the May 15 finale.
There's so much brewing in these remaining hours that it was the perfect time to sit down at The CW offices with none other than Stephen Amell, who has finished production for the season and gleefully previewed what's on tap, offering various hints as to what we can expect both this spring and into next fall.
Read on for teased and tidbits from our chat...
-------------------------------------------
Ollie/Diggle Strife: Emily Bett Rickards told us earlier this week about Felicity going out in the field but Amell explained why this will take place: "Oliver and Diggle have a little bit of a falling out because Diggle is really after getting Floyd Lawton and he's becoming a little bit obsessive," the actor said, "Oliver doesn't share the same commitment because there's still an overall goal and there's things that we're learning and that rubs Diggle the wrong way. So, at least momentarily, he is not at my disposal and I have to send young Miss Smoak into the field."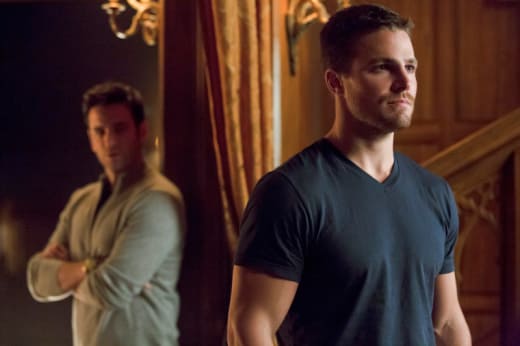 Pre-Island Ollie: Episode 21 will feature flashbacks with a pre-island Oliver, who is quite different than the Ollie we know today: "I had never really played the guy before except for one real quick scene in the pilot and it went really well," Amell said. "Both Marc [Guggenheim] and Andrew [Kreisberg] actually had wished we had gotten to shoot more of it."
In the flashbacks, we'll see Ollie with Laurel, as well as Moira, and Amell couldn't help but gush about his TV Mom, Susanna Thompson: "She's wonderful in the episode because she just plays Moira Queen, the doting mother [and] she's not privy to all this conspiratorial behavior. She just loves her children and loves her husband and she's just happy go lucky. Susanna is really wonderful."
Olicity? We know that Felicity has moony eyes for Ollie, but does he see her more as a little sister or as a woman? "I think he sees her as a woman," Amell said. "I think that every day that he sees Felicity he finds out how capable she is…by the time we get to [episodes] 22 and 23, 23 especially, with the stakes as high as they are, it's not 'you're the IT girl in the Arrow cave,' it's, 'you are a member of the team. On equal footing with myself and Diggle and we need you as much as you need us in this scenario."
And while Ollie may not be thinking romance just yet with fan fave Miss Smoak, Amell teased that "just based on her knowing more about me than just about anyone at this point in my present day life, she can probably challenge me in ways that other people can't and that's always attractive."
The Dark Archer Lays It Out: There are definitely more fights coming involving Amell and John Barrowman (Tommy's father, Malcolm Merlyn, aka The Dark Archer). The actor also helped clear things up in terms of the journey we've been on for the past few months.
"Our entire mythology of our season and the reason almost everybody is doing what they'd doing is laid out by Barrowmen in this eloquent monologue," Amell said. "It's nice because it pays off what we've been setting up and, just as a viewer, I would like it because you sit there and you go, 'Oh wow. These guys, they had a plan.'"
And while Amell admitted that viewers would find out about this plan, he wasn't as clear about Oliver: "I think it would be sort of sad if Oliver didn't find out but who's to say?"
Love Triangles Stirred Up: "Love triangles very rarely stay quiet for very long," Amell said. "It's less between Oliver and Laurel this week than it is between Oliver and Tommy and we are going to get some, if not, moments of Oliver and Laurel together, we're going to get some clarification to how he feels this week but I would expect to see my character and Katie's character together a lot more before the end of the season and that's not good for Tommy."
Island Drama: For Amell, the last two episodes of the season should both be considered the season finale. "It's the culmination of Edward Fyers and his plan and it's a moment of transcendence for Oliver," Amell said, adding that the island story from now into season two is already pretty solid: "I think they have a really cool idea and really have it mapped out for what the island is going to be in season two and that will hopefully push us towards a couple of those episodes like episode 14 where it's a little more island-centric."
Thea Kicking Ass: While we'll see Thea and Roy continue their quest to find the vigilante: "Oliver does catch wind of this before the end of the season, which leads to some interesting interaction between the three of them. And then it's time for Thea in the finale to, I think, really stand on her own and have a few heroic moments of her own."
A Mask In Ollie's Future? While Ollie's smoky eyes and hood are Arrow's current look, Amell said we could see a mask on Ollie's somewhere down the line: "We really view Oliver right now as The Hood or Arrow 1.0 and that goes along with the season. He's living in the year 2013 and he's using a wood bow that he made on the island. Things are going to change with him as time goes on."
Watch for Felicity to introduce new gadgets for Ollie to use when fighting the bad guys.
Islanders in Starling City? While thus far the flashbacks on the island and present are separate, Amell wouldn't' be surprised if they crossed over: "It does sort of seem like inevitability that eventually some aspect of the island will touch Oliver's life in the present day. Just name a character from the island…Slade, Shado, Edward Fires, Yao Fei…any of those people showed up in the present day? I think that would be awesome."
Season 2 Hints: While there's much to wrap up in four episodes, Amell hinted that we will see bits of the next season by the end of year one: "Whether it's Diggle's involvement with a certain organization that we're seeing over the next couple of episodes or me confronting Roy with Thea right there in a particular scene, while we are servicing a lot of our storylines for season one, you do start to see little Easter eggs along the way for season two."
Are you psyched for these last episodes to air from Season One? What are you excited to see the most?


Jim Halterman is the West Coast Editor of TV Fanatic and the owner of JimHalterman.com. Follow him on Twitter.