The American Idol Top 4 are each determined to make an impression tonight. After last week's dramatic twist, they all understand the significance of being on the stage. 
One trend we've lost this year is that of the weekly mentor. Harry Connick, Jr. is bringing that back as he helped the girls prepare their songs. Who'll come out on top after tonight? Let's find out!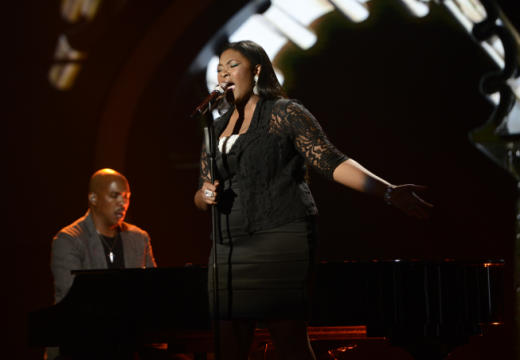 Round One: Songs from 2013
Angie Miller decided to go with Rihanna once again. Singing "Diamonds," she's back behind the piano. Aside from trying too hard to connect with the camera, it's a really good musical performance. She's always been a strong vocalist, but she's coming up strong in the last few weeks. There's a bit of a screechy note when she goes into the chorus, but she made the song so different it's almost forgivable. Keith loves the "percussive, muscular weight" of the original version and didn't feel like Angie's arrangement did the song justice because it didn't let her soar. Nicki said this piano performance was different because she was disconnected from the performance and her heart wasn't in it. Randy felt the performance fell flat but he likes her leather shorts. Mariah thought she took a huge risk changing such a popular number and felt that it didn't pay off for her. 3.5/5
Hoping for a trip back to East Texas, Amber Holcomb has chosen "Just Give Me A Reason." In rehearsals, she doesn't know the words. She's so relaxed in her rehearsal but stiff on stage. She loosens up just a little when the strings and drums come in behind her, but then she loses consonants making the lyrics hard to understand. She's just too in her head and wooden when she sings. And a personal pet peeve is when singers put a power-ballad ending on a song that isn't a ballad. Nicki noted that her rehearsal footage showed a relaxed Amber but her performance didn't reflect that. Randy tells her to have fun with this and says her performance wasn't stellar. Mariah gives her, and the other contestants, credit for learning songs so quickly, but says this wasn't her best performance. Keith thinks what's lacking is experience and confidence and believes that it will come with time. 2/5
Singing Bruno Mars' "When I Was Your Man," Candice Glover is up next. This girl can sing. She just can. She has yet to have a bad vocal on this show. This is an interesting song choice, and perhaps not the one I would have chosen for her. But vocally, genre-wise, it's in her wheelhouse. The accompaniment is a little strange, but I love the bluesy, jazzy vibe she brought to the number. Randy called her performance amazing. Mariah believes she took the song and changed it to suit herself. Keith didn't care at all about the pronouns because, as he rightfully pointed out, every girl is singing along on the radio, and called it a winning performance. Nicki said her song deserved a standing ovation, so the judges gave her one belatedly. Nicki said Candice is someone that divas respect already and she hasn't even put out an album yet. 4/5
Kree Harrison takes on a former Idol, Carrie Underwood, with the country star's "See You Again." When Carrie performed this a few weeks ago, it was solid but didn't blow me away. Kree stayed seated for the performance as a way to visually ground herself in the performance. Her vocals, much like Candice's, are always solid. While I don't know that this was her best performance to date, I think that has as much to do with the fact that this just isn't a spectacular song on its own and not so much to do with Kree. Perhaps her ability to choose good songs has been slipping. Mariah loves Kree's authenticity. Keith, once again, wasn't connected to the moment because the staging was bad (Editor's note: It was bad.). Her singing, however, was faultless. Nicki loved it and felt that she sang with her eyes and from her heart. Randy said he's focused on the voice and not so much on the song and thought it was a great vocal. 4/5
Round Two: Standards
Going first in this round, Angie Miller sings "Someone To Watch Over Me." She's singing this for her mother because her mother used to sing this to her. It's a theatric performance. Angie looks and sounds amazing, but this feels a little like a pageant song. An upscale, highly produced pageant number, but still. This didn't do her any favors to make her relevant. Keith thought the song was too old but she sang it beautifully. Nicki called her a Disney princess and thought this was better than her first performance. Randy also thought the song was old and didn't love the arrangement. However, he thinks she can sing anything and gave an amazing vocal. Mariah and Nicki fought again and then Mariah told her to sing from her heart and her notes would shine despite the dirt splattering around her. 3/5
Amber Holcomb reprises "My Funny Valentine." During her rehearsal, it came out that she knew nothing about the meaning behind the lyrics, which has plagued her as recently as last week with "Macarthur Park." She has some really nice moments, but there's nothing about this song that makes her relatable as an artist. That's likely true for all of these girls, though, so I can't hold that against Amber. It's pretty, but sleepy and she's already sung the song once. She also kind of looks like she wants to throw up. Nicki calls it beautiful and then asks her why she looks like she's about to cry. So she starts crying. Nicki counsels her to believe in herself and in her future career in music. Randy said she made a believer out of people who were on the fence about her before tonight. Mariah said she felt the spirit in Amber's performance. Keith pointed out the lack of energy in the audience and how that's impacting the performers tonight. 3.5/5
Candice Glover chose "You've Changed" by Billie Holiday. She's seeking connection with the song but worries that the younger audience won't connect with it. She's got the right kind of voice for singing standards and chose an amazing song for her vocal style. She's a chameleon. One song she's current R&B and the next she's throwback jazz. THAT is what makes Candice the one to beat. Amazing performance from her. Randy gives her an "in it to win it." Mariah has no critique except for saying that she's going to download that. But then she found things to say about the amazing chord changes and subtleties. Keith loved watching Mariah watch Candice sing. Nicki said there's nothing she can add and calls Ryan to the stage. 5/5
Closing out the night, Kree Harrison picked Lena Horne's "Stormy Weather." Harry tells her to steer clear of the vocal runs and sing the song straight. She has such a beautiful lower register and warmth to her voice that makes her so easy to listen to. I'm not sure she really connected to the heartbreak of the song, but she sang it well. Mariah thought she would've picked a different, less lounge-y, more bluesy song, but loved her vocal. Keith also would've chosen a different song but told her never to lose the parts of her voice that make her who she is. Nicki, again, said the song choice wasn't good here. Randy told her she should've chosen the Etta James version instead of the Lena Horne version and Harry got called up to argue with him. Ultimately, they agreed that she should just be Kree. 3.5/5
As we get down to the wire on American Idol season 12, it's clear that the rigors of this competition are wearing on each of the girls. They seem physically and emotionally tired. As much as I want Kree Harrison to make it into the Top 3 because of the unique qualities of her voice, I think she and Amber Holcomb seem the most tired of the four of them.
Idol producers don't help them out at all by making them sing old, sleepy numbers. The girls who can make those old classics feel new are the ones who will succeed and so far, Candice Glover is the only one who seems to have excelled at this. 
So, the breakdown for tonight:
Angie Miller--6.5/10
Amber Holcomb--5.5/10
Candice Glover--9/10
Kree Harrison--7.5/10
What did you think of tonight's performances? Which of the Top 4 had the best performances of the night?
Miranda Wicker is a Staff Writer for TV Fanatic. Follow her on Twitter.