With the hashtag #4justice and the tagline "This disaster has his family name written all over it," this May sweeps ad for the next two episodes of Arrow - given exclusively to TV Fanatic by The CW and Warner Brothers - shows that we're in for what could be, perhaps, an explosive end of the first season.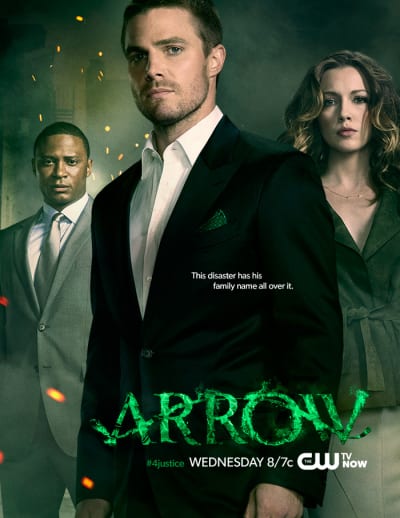 From the sound of the tagline, things are obviously going to get more personal for our hero, Oliver Queen (Stephen Amell), who just found out what we've known for awhile - that dear mother Moira (Susanna Thompson) is in cahoots with dastardly Malcolm Merlyn (John Barrowman).
It's worth noting that we're seeing Ollie here in regular clothes and not in the Arrow mask/outfit. Also in the ad are Laurel (who he admitted he still loved in this week's episode, "The Undertaking") and his right hand man, Diggle, who has his own vendetta to take care of.
And what should we make of what appears to be embers of fire floating in the air? Is something - or someone - going to go BOOM soon? We'll find out in the last two episodes of Arrow Season 1, May 8 and 15.
Jim Halterman is the West Coast Editor of TV Fanatic and the owner of JimHalterman.com. Follow him on Twitter.