We finally got the full picture of everything that has gone into "The Undertaking" and how long it has been in development. It's what got Robert killed and Walter kidnapped. It's still moving forward.
The list is a side project that was only barely connected to it. I never imagined Malcolm would have known about the list and helped Robert to create it. They were actually working together.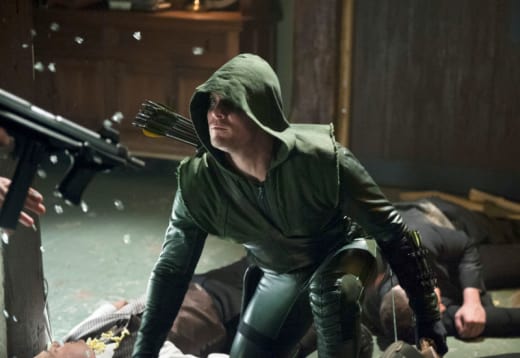 It was really weird seeing Robert and Walter interacting, knowing Walter's future would be with Moira, and that the destruction of the Glades they were discussing while Walter was in the house that day was what would get Walter kidnapped one day.
Walter was once just an innocent business man who fell in love with the boss' widow - and he got caught up in the worst possible scenario. 
Felicity tried to wrangle Diggle to help with the Walter lead, reminding him that if it was actually Diggle's life on the line, Oliver would be there. Oliver just seems unable to help with Diggle's vendetta, or anybody's but his own. 
That left Felicity on her own on an assignment in the field. Well, not exactly alone. 
Felicity: It feels really good having you inside me. And by you I mean your voice. And by inside me I mean my ear. I'm going to stop talking right now.
Oliver: That would be my preference. | permalink
She is pure gold, that girl. I was worried about her, considering the last time she was in the field. I can't believe I missed that Oliver was just trying to get information from the casino guy to push Moira to confront Malcolm.
Interestingly, we learned Malcolm took Robert (and therefore everyone else on the boat?) from Moira. Most likely because he balked at leveling the Glades. For Robert, the list all started with one death. An atonement for one accidental death. Moira tried to tell him that preventing the horror of leveling the Glades would be the ultimate atonement. 
Once Moira heard about Walter's death from Oliver, she immediately went to Malcolm and accused him of double crossing her and killing Walter. Oliver finally discovered his mother wasn't the woman he thought she was and she was working with Malcolm to ensure the Undertaking - the destruction of the Glades - would go down this time without a hitch.
This is when things are going to get really ugly. What the hell is going to happen now that Malcolm knows Walter has been rescued? Will he move his plans to level the Glades onto a faster track to avoid detection? Will he get Tommy involved?
A lot more needs mentioned, so it's getting bullet points:
Laurel wanted Oliver to go to Tommy on her behalf and tell him he doesn't love her. Oliver wouldn't because he has enough lies in his life. Poor Laurel looked like she'd been smacked!
Frank being killed doesn't seem so sad now that I know he was right next to Malcolm in taking down the Gambit. He didn't give a crap about Moira's family, so her not giving one about his makes sense.
I'm glad Oliver finally went to Diggle's place to tell him he was right all along. Admitting that had to be difficult; almost as difficult as asking for his help. 
Nothing on Roy this week. I wonder if he'll fit into the master plan to stop the Glades being destroyed since it IS his home, of if he's benched for the season.
Anyone else think Tommy is past the point of return now? He was so harsh to Laurel, and he really loved her. If he can be like that to her, then imagine how he'd react around the other characters. Yikes.
Two episodes left in
Arrow Season 1
. What about this hour surprised you the most? Hit the comments and check out the promo for next week:
Carissa Pavlica is the managing editor and a staff writer and critic for TV Fanatic. She's a member of the Critic's Choice Association, enjoys mentoring writers, conversing with cats, and passionately discussing the nuances of television and film with anyone who will listen. Follow her on Twitter and email her here at TV Fanatic.