There have been so many different ideas about what the Arrow season finale would bring. But "Sacrifice" pretty much blew them and most of the predictions about what we've been tossing around about Season 2 and kicked them out on their respective asses.
For the many stumbles that Arrow Season 1 suffered as it found its footing in the earlier episodes, it delivered one of the best freshman finales I can think of in recent years. It was simply phenomenal.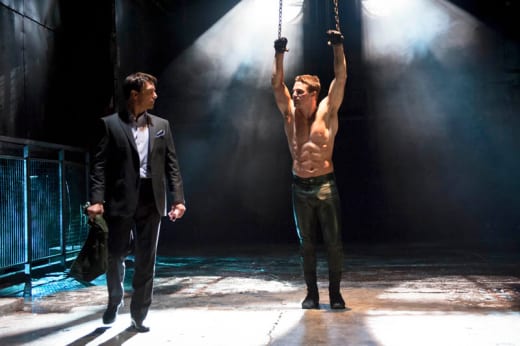 Beginning where we left off with last week's "Darkness on the Edge of Town," Malcolm had Oliver artfully strung up (shirtless, as we all found to be most appropriate) and was explaining to him something we discussed in a recent Round Table: Why Malcolm was able to take Oliver down so easily. Far be it from Malcolm not to kindly give us the answer we so eagerly sought.
You can't beat me, Oliver. Yes, you're younger and you're faster, yet you always come up short against me. Wanna know why? Because you don't know, in your heart, what you're fighting for. What you're willing to sacrifice. And I do. | permalink
It was if the writers were sitting around the table and they KNEW we wanted the answer to that question, would be rubbing our foreheads and trying to determine what it was that set them apart. I daresay we didn't come to that conclusion in our discussion, but it was a beautiful line. 
If only I believed it. 
The longer the hour progressed, the more clear it became that everyone had something to fight for and a reason to sacrifice their lives, a deep seated reason to do what they were doing - everybody except Malcolm.
Oliver told Tommy he's always known what kind of man his father was and he still had time do something to stop him. Tommy's response? "I wish you had died on that island." We know that's not true, and we later heard it from his lips, but the sting to Oliver was just as real.
It was shortly thereafter that Malcolm pushed his son away, proving that he was fighting for nothing but hateful vengeance against a bunch of unknown people who walked by his wife on a sidewalk many years before. He was fighting against his hatred for a neighborhood that turned a blind eye to his wife as she lay dying and couldn't even eek out the courage to fight for the love and acceptance of his son in the present. That's when I knew he would lose the fight.
If you were like me, you were waiting for that romantic moment that would help us to understand why Oliver and Laurel were a couple to root for. It arrived here. What Oliver said to her was beautiful, and the scene was beautifully shot as well. The island didn't change him, it scraped away all of the parts of him that he wasn't, but that Laurel had seen all along. Now, he tells her:
Nobody in my life is who I thought they were, except for you. | permalink
Yes, it finally makes sense. Why he would cling to who she was, why she loved him and why they were always especially drawn to each other. I think Tommy saw some of that same man in Oliver that Laurel saw and that's what kept their friendship alive despite their constant struggle for the girl, the recognition, the life of the other.
The finale was so aptly named, as nearly every character made a sacrifice, either in the episode or referenced in the past. Here's a list of all the sacrifices I could track.
Lance threw away his career to save lives by exposing his dealings with the vigilante. 
Robert sacrificed himself so Oliver could live.
Moira wanted to sacrifice thousands so Oliver and Thea could live, but instead sacrificed her freedom to save them by exposing Malcolm.
Oliver was willing to sacrifice himself for the city.
Malcolm sacrificed his relationship with his son to carry out his vendetta against a flock of innocents he felt responsible for the murder of his wife.
Felicity stayed behind to man the control station to walk Detective Lance through disabling the earthquake device, willing to sacrifice her life for the city.
Roy couldn't leave the people of his neighborhood behind, and stayed behind to help them.
Tommy gave up his life to save the woman he loved by freeing Laurel from the rubble of her building.
I'm sure there were more, but it became almost crazy as the heroes of our story pulled out of themselves strength they didn't even know they had inside of themselves.
Just when you think this review is over, there is still more to discuss. I'm going to try to frame what is left in terms of what it means to next season because this finale threw us for such a loop.
I'm surprised that they weren't able to save the day; not completely anyway. Malcolm had a contingency plan. It was nice of him to tell Oliver before he died. And it appears he's dead. Along with his son. 
The Merlyns are no more. The Dark Archer won't be an issue for Oliver and Tommy isn't going to go dark and vengeful due to the death of his father at Oliver's hands - because Oliver told him, just before he died, that he let Malcolm live. One more kindness for the best friend Oliver ever had.
Moira was arrested for her part in the Undertaking and whether Malcolm's death and lair will make her case easier to defend or more difficult will be something we'll learn next season.
Quentin lost his job because he helped the vigilante. I wonder if that will somehow impact Laurel's decision to join forces with Oliver as the Black Canary and they'll all become a part of a team to fight a new corrupt force that will arise... or if there was always another around and we've just been more concerned with that lead by Malcolm. 
The scenes on the island should take a new direction as they are our three survivors, Oliver, Slade and Shado are left to fend for themselves in a new way, without a force of evil directly at their back. 
I'm blown away, almost as much as the town was jolted, by the way the finale unfolded. Share your thoughts on the finale, and what you think season 2 will bring, especially now that the Dark Archer is no longer a threat.
Carissa Pavlica is the managing editor and a staff writer and critic for TV Fanatic. She's a member of the Critic's Choice Association, enjoys mentoring writers, conversing with cats, and passionately discussing the nuances of television and film with anyone who will listen. Follow her on X and email her here at TV Fanatic.