Boden was worried about his position at the house in "Leaders Lead," especially because Kelly Severide was questioning his authority over the case against him.
Frankly, I don't think it had anything to do with Boden, but with Kelly trying to reclaim his life and his integrity. He was fighting for his the former. And it turned out his life wasn't the one in jeopardy.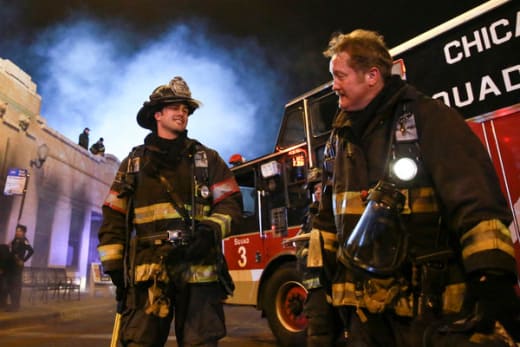 Is taking bets on the red skivvies from the laundry really the best idea? Considering the position Severide currently found himself in just because he was friendly to a woman who was in the house for about a nanosecond? I really didn't understand what they were trying to do with that story. I guess it was to bring Severide and Boden closer. 
The whole deal with the promotion and her continued contempt were getting to be too much. Shay finally had a good idea. Based on how Tara took no time at all to flirt with Severide, someone should look into her background to see if she had something to hide. Perhaps she was a nutter who had done this before. Her poor decision to quit her old job to become a paramedic when she couldn't stand the sight of sickness certainly indicated issues. Kelly went to Dawson's brother and learned that Tara had leveled criminal charges against someone before.
The guy who was screwed by her before was an ad executive with an MBA, blackballed by his industry because of her false charges and working in a copy shop. Severide was up against a pro.
The moment he and the guy she screwed showed up at her place of employment, threatening criminal charges of their own, I felt like doing the Rocky dance. So triumphant! 
With Boden's crisis of conscience and doubt in his leadership abilities... the little girl and her family showing up at firehouse where Boden rescued a baby girl 12 years earlier... the very girl who was standing in front of him, happy, healthy and adopted... did what is necessary on every episode of Chicago Fire: it brought tears to my eyes. Boden needed the reinforcement of his career and he received it in spades. 
On the relationship front, Dawson was having her own issues about keeping the secret from Mills regarding Boden and his mom. That one I don't really understand. It wasn't her secret to reveal. She found it out second hand and someone else should have carried that burden, not Dawson. His reaction to her holding onto the information was not well received. 
At the same time, we had Casey and Hallie continuing to rekindle their love, as she admitted to him that her time away form him reminded her of a lot of things she wanted to get back. She was working at a free clinic in her spare time and getting her groove back for all of the things she loved. She was tolerable and their future seemed bright.
Chicago Fire doesn't pull any punches. The show brought Hallie back for a reason: To kill her and rile up Casey. There was a fire at the clinic and she didn't make it. While everyone waited for news, there was tension in the air. Mills was still angry with Dawson and the group as a whole was quiet and worried.
A doctor came out, Casey walked down and broke into sobs. It was Mills who broke through the crowd and went down the hall to take Casey into his arms in an attempt to comfort him. It was a pretty amazing scene. Mills is a very complex character. Even faced with some of the biggest news of his life, and knowing fully well the woman he loves stands before a grieving man who just lost the woman who had kept them apart, he went to him. 
I caught the previews, and it would appear that perhaps whatever Hallie saw in that file before she and Casey had lunch might have gotten her killed. The fire may have been set to cover up an assault on Hallie. Was it the big guy coming out of the bathroom? Next week will be more interaction with the police force, Dawson's brother and Detective Voight. How far will Casey be pushed this time?
Carissa Pavlica is the managing editor and a staff writer and critic for TV Fanatic. She's a member of the Critic's Choice Association, enjoys mentoring writers, conversing with cats, and passionately discussing the nuances of television and film with anyone who will listen. Follow her on Twitter and email her here at TV Fanatic.