My oh my, things haven't gotten quite that gruesome in a while on Hawaii Five-0, have they?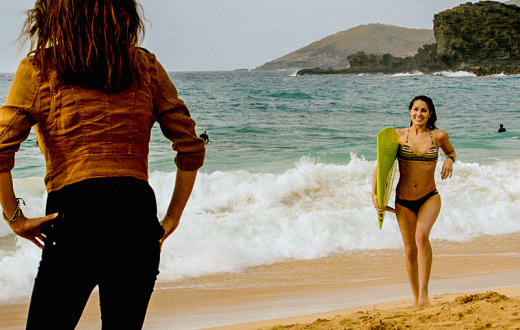 "Ho' opio (To Take Captive)" wrapped up with as happy an ending as an episode like this could possibly have... but what a truly chilling and heart-breaking ride to get there.
From abductions to ankle shackles to a thwarted live burial, this hour went to some extremely dark places in its pursuit of a nightmare-ish couple who kidnap young girls, exploit them for welfare money and then murder them when they become too old.
Oh yeah, and they also serve milk and cookies to them while they're shackled up in their secret room, telingl them that their real parents are dead. No, I wasn't planning on sleeping again ever, why do you ask?
The monstrous couple in question were expertly played by a pair of 90's all-stars: Mare Winningham, who you may know most recently from Hatfields and McCoys (but who will always be the star of Turner and Hooch to me); and Henry Rollins, who you may know from his work on Sons of Anarchy, his ground-breaking punk and spoken word albums, or this.
Both milked their brief on-screen time for maximum creepiness; Winningham injected her cookie-bearing monster-mom with just the right degree of psychotic delusion and Rollins, in his few moments on camera, still managed to roll out his trademark Rollins surliness (yes, even while he was about to get wailed on by Danny). He even found his way into one of the night's best Hawaii Five-0 quotes.
The expert use of guest stars to create a specific mood remains one of Hawaii Five-0's greatest strengths, and the way that they were used in this episode - to build an atmosphere of acute terror and dread in paradise - is a real testament to that.
"Ho'opio (To Take Captive)" was also a reminder of another of Hawaii Five-0's greatest strengths: narrative diversity. It's a show that's capable of being an action epic one week, and a grim crime procedural the next, fully committing to the vibe of each episode, without ever losing the show's unique flavor.
And that unique flavor was exactly why I found this episode more chilling than an episode of CSI, Law & Order: SVU or any of the other gory crime procedurals shows that I watch regularly.
Hawaii Five-0 is always full of such vivid, life-affirming energy, with the emotions turned up much higher than they are on a lot of crime shows. Pairing that with the trauma of children yielded some intense (but riveting) results.
This week also saw the return of the Adam subplot from a few episodes back. It's nice to see this plot point brought back in. I can only imagine that the relationship between Adam's family and the mysterious Sato will reach a fever pitch in the run-up to the season finale.
What do you think Adam's real secret is? Did you dig the guest stars? Did you know that those awesomely helpful bikers are based on a real organization?