"False Pretenses" was such a standard crime of the week episode of Major Crimes that it was almost difficult to review. The show has gone so far off the beaten path of the traditional crime drama that this broader focus threw me a bit.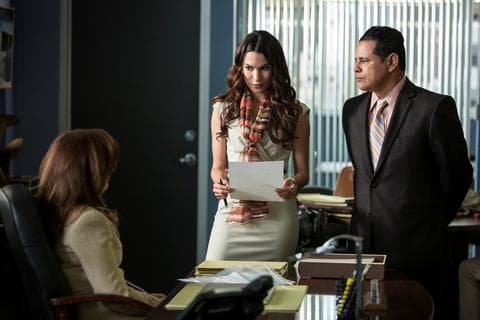 The crime was a murder suicide between a brother and a sister, the latter of whom was going through a bad divorce and the former of whom was her estranged husband. There were two unique pieces to this crime. First was the still-annoying DDA Rios and her ridiculous reaction to the murder scenes. 
I'm sorry, but I don't buy that she got as far as she did in her job without viewing crime scenes and dead bodies before arriving here. She literally stops in her tracks and shrieks. Not once, but twice at the same house. Lawdy woman, have some professionalism. 
A lot of people noticed Sanchez and his apparent crush on Rios last week, but if I was to guess, it's already gone beyond that. They are awfully familiar with each other. He took her a coffee to the scene and later was rummaging through her purse to find her keys. Not just any purse, but a giant tote style bag. Women who do not know you do not like men who have crushes on them jamming their hands into their bags. Rios is a strange cookie, but to allow that? I'm ready for a reveal.
The second interesting part of the case was the use of the app used by gay men to "whip" up a nearby like man for a hookup. That wasn't the first time I saw an app like that portrayed and I wonder if they're real. It seems they'd be awfully dangerous to use, but I can also see the appeal. At the lighter side of it, it would be like voyeurism. Whip someone just to watch their reaction. 
There was also a "Dear Rusty" letter sent to Rusty in association with the Stroh case, which was immediately taken as a way to intimidate him into deciding against testifying in the case. They didn't come out and accuse him of doing it, but it crossed their minds that Rusty might have sent the letter to himself. When it came back without any prints other than interested parties, I wondered that myself. He was pleased to be grounded forever as long as it meant he could stay with Sharon. 
But nothing is that easy with Philip Stroh and I'm hoping we get to see some action out of that psychopath before the season ends. Rios thinks she knows what she's up against, but if she can't handle seeing a dead body, Stroh will scare the crap out of her.
The case was alright and Flynn and Provenza were good for a few laughs, but I missed the camaraderie that provides the more sincere moments and heartfelt humor. That's what I've come to love about Major Crimes and when a plain old crime is the focus, I miss my little family.
Carissa Pavlica is the managing editor and a staff writer and critic for TV Fanatic. She's a member of the Critic's Choice Association, enjoys mentoring writers, conversing with cats, and passionately discussing the nuances of television and film with anyone who will listen. Follow her on Twitter and email her here at TV Fanatic.