"Hammertime" was probably one of the better episodes of Royal Pains Season 5.
But if there's one thing I've learned from this shiw, it's that secrecy can be dangerous, especially if lives are potentially at stake.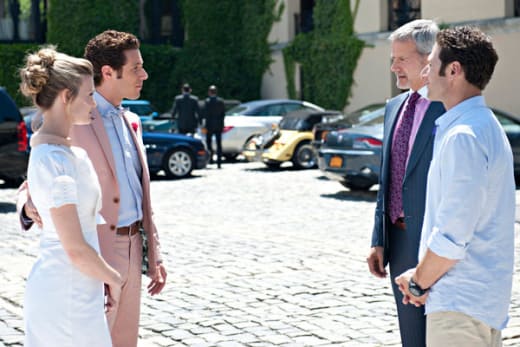 That, and I think I might have finally latched onto a theme for this season that might make everything that's happened so far make sense.
So I bet you're dying to understand what you can about a season that really has felt like a patchwork of concepts that never quite completely cohered. Look at each of the episodes. Each one has circulated between four major plot points: Hank's recovery, Divya's pregnancy and Jeremiah's feelings for her, Evan's campaign to make Village Council and Hank's covert op with Boris.
Because this episode was clearly meant to deal with Hank and Boris' sting operation, it's no surprise that next week we will circle back to the campaign trail. Strange thing is, I don't even think he has to continue running for Village Council solely to save HankMed from disadvantageous zoning laws. This could become a thing where Evan is really out there doing some good in the community.
Also, because this plot with Milos was introduced in the Royal Pains Season 4 finale, revisited in the winter special and then became a focal point for this season, it seems to me that - with him now in jail or at least being taken to get help - we could see this plot point finally come to a close.
That said, it certainly made this episode one of the better ones this season. The fake auction actually went off better than I would have expected - and I did not see the extent of its orchestration until it was revealed to the audience. This was probably the most un-forced series of events to have occurred all season, and for that I am greatly appreciative. Even so, I hope this is kind of the end of the crazy extended family issues for Boris so we can get back to the more important things going on right now: Divya and Jeremiah and Evan's political dreams.
Yet even as we return to that core plot point, we also revisit Hank's potential addiction issues, which part of me thought came and went with asking Jeremiah to be his prescribing physician in "Hankwatch." I certainly didn't expect it to hitch itself to Evan's campaign bid, though it seems the perfect piece of drama to rev up the stakes on Evan's political ambitions, potentially derailing them should Hank's potentially addiction become out of control. Not to mention the implications for HankMed's recent acquisition by Symphony Health.
So, Hamptonites, do you think this is the last of Boris' crazy relatives? Do you think Hank has become addicted to painkillers?
C. Charles is a TV Fanatic Staff Writer. Follow her on Twitter.