Is the "serial killer" that Sonya and Marco are chasing also "The Beast" in Juarez? 
On the surface, it would make sense to assume that they are the same person, but I don't think they are. The serial killer seems to be reacting to the lack of concern or investigation into the Beast's killings. He's making a political statement about the differences between how killings are treated in El Paso versus those in Juarez. If he was responsible for the deaths, why would he care?
Plus, there is the new cover-up in the FBI to consider. Is one or both of the killers in law enforcement? Could it be someone we already know?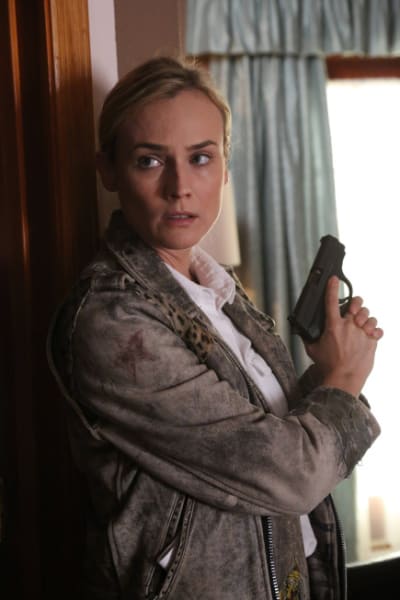 The killer was quiet for the most part in "The Beast" and that allowed for confusing tales about other characters in the story. As much as I am intrigued by the serial killer, his motivations, and methods, I don't really care about the other characters. That makes the slower character driven episodes like this one a drag to watch. In the episode, the characters were taking a "long view" of their situations and that was perhaps a note to viewers as well. It's not about getting quick answers, but the journey to get them.
While all the characters introduced have ended up being connected to the story somehow, I don't like how they just show up and then we have to wait and see how it all connects. It's confusing. Gina's appearance was like that.
She was arrested for shoplifting earrings, was bailed out by her father, then went to Mexico, was almost kidnapped, rescued by another teenager, showed the pink crosses, then returned home to find her father killed. And, it all connected because he was Peter Meadows, Gedman's therapist. What?
In the end, it all makes sense and we actually learned quite a bit about the story through her character, but while watching I wasn't sure why I should care about her. The main point  was to introduce "The Beast" and the pink crosses. And, it was effective in doing that.Did she really see her father's killer? And, why does she think he is "The Beast?"
Then, there is Linder. He was cleared in the killing of the girls, but he is a killer. It was in self-defense ... sorta. He didn't have to actually kill the unconscious man. At the same time, it was a kill or be killed situation.
He's paying the price for protecting and saving Eva. Will he stay strong and keep her location a secret? Or, will he be tortured into giving her up? If anyone can withstand the torture, it's Linder. His role and motivations are just as much a mystery as the killers, but he's proved his inner strength.
In addition to the movement in the case, we learned more about what happened to Sonya's sister. She was killed by a brain-damaged man, Jim Dobbs. And, Sonya has his drawings on her refrigerator. She's still troubled by her sister's death, but has learned to move on because she's "gone." While Marco's an idiot for sleeping with Charlotte, his situation provided the bonus of putting him in a position for him and Sonya to get closer.
I don't want them to get sexual (they both definitely have lax sexual standards), but to grow as partners. The better they understand each other, the more likely they will be to successfully work together and find the killer. And, that's what this is all about, right? Beyond all the extraneous aspects of the show, it's about finding and capturing a killer or perhaps killers.
Did you enjoy this "long view" episode? Or, is it moving too slow? Is the Beast and the serial killer the same person?
Carla Day is a staff writer for TV Fanatic. Follow her on Twitter and on Google+.