It's been nine days under the dome and the Chester Mill's residents are so bored they are lured into a fight club. Seriously?
"Let the Games Begin" had more going for it than not, but Maxine and her antics were a disappointing turn for the series. The townspeople should have bigger concerns with the dome overhead than gambling with the precious resources they have left. Two days ago they were rioting for food and goods.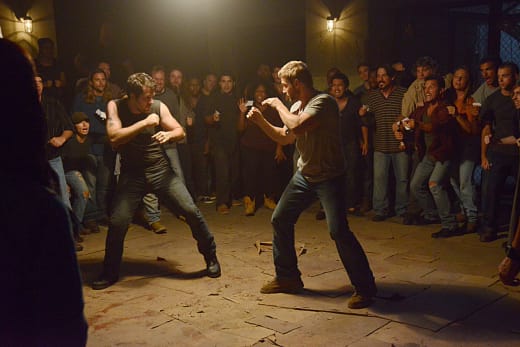 The fight club at the cement factory was too reminiscent of the walker fights that the Governor hosted in Woodbury on The Walking Dead. In that case, the town had been locked up for months with adequate supplies and not days. Besides, how was Maxine able to get that set up so quickly? I was excited to find out that Natalie Zea was joining the cast since she's played such intriguing characters on both Justified and The Following, but here her character's been a letdown ... so far.
Now that her hold over Barbie is gone and Jim has probably killed her mother, it's an entirely different situation. The arrogant and power-driven Maxine will be at risk of overplaying her hand. If she's forced into a prey instead of predator situation, that could be enjoyable to watch. Though, Jim has concerns of his own to contend with now that Linda know the truth about him.
"Let the Games Begin" didn't just refer to Maxine's games, but the set-up of the mind games, manipulations and dome happenings  that will start now that secrets are out. Even though Barbie's in the clear with Julia regarding Peter's death, Jim is a wild card. What will he do with this knowledge? Jim's got his own troubles with the law to worry about, so could he use it as a bargaining chip with Linda?
It's more likely that Linda would believe in Barbie's innocence just like Julia. Though, Jim's value to the town with the dome overhead can't be understated. A scandal like his would likely be disregarded by the townspeople if they believe he was protecting the town and would continue to do so given their current predicament. 
The other possibility is that Jim would use his day to gain leverage in the situation. He's shown he will kill to protect his power position on many occasions. Linda could end up his next victim. Only he doesn't realize that Julia knows the truth as well. If Jim continues to kill those who threaten him, there won't be anyone left in Chester's Mill.
While Jim was out across the water, his son was finding out the truth that has haunted him for years. I'm not sure what the point of Junior kidnapping Angie was in the larger scheme of the story, but I hope we find out there was a point to it all. Since Angie and Junior were both needed to open up the communication of the dome through the mini-dome, that event didn't really make sense.
The foursome was completed with Angie, Junior, Joe, and Norrie. When they touched the mini-dome the pink stars appears around them and formed constellations. The dome was somehow communicating through the seizures, but the overall purpose of the mini-dome, the pink stars, and their connection to it remains a mystery. One thing is clear is that the dome didn't just appear one day. It's had a presence and influence over people for years.
With only three episodes left, I hope that the show will at least reveal the origin of the dome and/or its purpose for appearing over Chester's Mill. Under the Dome has been renewed for a second season, but it was promoted as a limited series and viewers should be given closure this summer.
What do you think the pink stars represent? Will Barbie be in the clear? How about Jim? Are you enjoying the addition of Maxine to the story? Will Maxine become an even bigger threat given what Jim did to her mother? Or will she be powerless now that her blackmail is no longer valid? 
Carla Day is a staff writer for TV Fanatic. Follow her on Twitter and on Google+.