After a stellar first season, Chicago Fire returned with "A Problem House."
But for most of the hour, the show's core felt mostly missing. Hopping around from one call to the next and one dangerous predicament after another gets old. The pillar of the series has never been the calls; ironically, sometimes the only escape from the drama and tension is to run out and douse a real fire.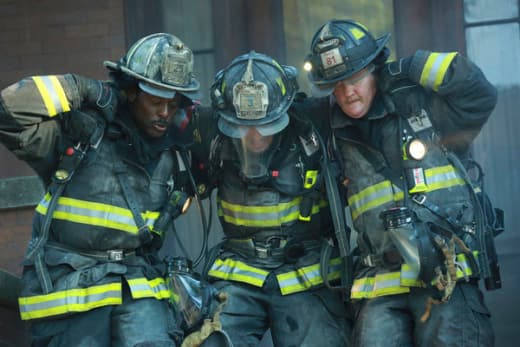 The attempts to broaden the stakes a little more don't feel genuine. Michelle Forbes' Gail is certainly not afraid of wielding a cost-cutting axe, but the threat of shutting down the house never really works out so well since the house is the basis for the show. Without it, Chicago Fire wouldn't be quite the same.
If the cost-cutting drama is an avenue for Mouch to run for Union President, I'm much more willing to tolerate whatever comes 51's way.
Jeff Clark is the other result of the broadening. I'm not opposed to seeing more of him. Clark ups the hotness factor of the house and he jumps in and gets to work with the rest of the team without a fuss. Gail's attempts at manipulating him into being a spy only make me hate her even more, while threatening to hold Clark's job over his head certainly feels like grounds for losing her own. Hopefully, she leaves the red pens to the professionals (Revenge) and packs it up soon.
Chicago Fire Season 1 ended with Renee surprising Kelly with her pregnancy - and now she's missing in action. I'm not surprised. Sarah Shahi is now kicking some butt on Person of Interest, but it's unfortunate that one of the outcomes of this plot point is Shay has to be the bad guy that breaks it to Severide that Renee's due date does not match up with their last foray in the sheets.
If Kelly wasn't stressed enough as it is, there's an arsonist trying to kill him at every turn.
Finally, there's Casey. The poor guy just can't catch a break. He offers Darden's widow and her friends another round of drinks on him, while on duty no less, and later finds Heather a DUI later and one of her friends in pretty bad shape. The "Problem House" certainly has a problem now.
Casey's predicament is one of the better plot points of the hour. It's full circle with Voight and his son's intoxication. Casey didn't look the other way for Voight, but with Heather is Casey wiling to stick to those principles? I hope he does if only because he has zero chemistry with Heather.
Chicago Fire has never had the best premieres, and this was no exception. The sooner we get back to telling compelling and emotionally driven stories rather than shock value plot points that will ultimately lead nowhere, the better Chicago Fire Season 2 will be.
Two More Thoughts:
Mills' application to Chicago PD is quickly swept under the rug.
Mouch and his girlfriend are adorable together.