Modern Family Review: Today's a New Beginning
Leigh Raines at .
Sometimes you don't realize how much you miss Phil Dunphy. Luckily, America's favorite family returned to our TV sets this week, fresh off of yet another Emmy win.
And Modern Family gave us back to back episodes to boot, starting with a long awaited engagement in "Suddenly, Last Summer."
Ever since the Supreme Court legalized gay marriage in California, people have been speculating about whether or not Mitch and Cam would tie the knot on Modern Family. In the first part of the season premiere, we finally got our answer.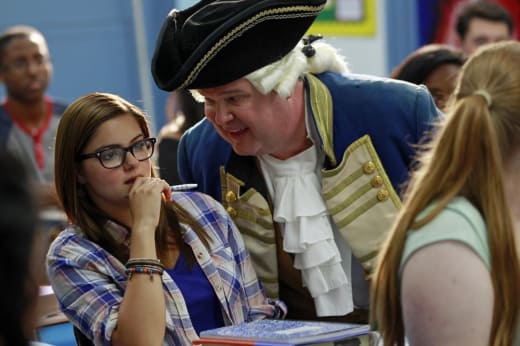 Yes! Since the answer to that question was so obvious, the episode became about something else: who exactly was going to propose and how? In typical MoFy fashion, the solution was something that brought the entire family together. As both men prepared to pop the question, they enlisted different sides of the family to help with the set up. As they raced around trying to create the perfect moment, they realized that, alas, the perfect moment can sometimes come out of nowhere. 
On the side of the road changing the tire, Mitch and Cam - both in good moods due to the impending engagement - started laughing around, both got down on one knee for the tire, simultaneously had the same thought and blurted out "yes." Congratulations! It just goes to show that it's not always about mood lighting or recreating a romantic memory; sometimes it's just being in the right place at the right time with the person you love.
However, when you have three kids, finding the right time with the person you love can be challenging. I loved watching Claire work her witchcraft magic to rearrange the kids' schedules while Phil looked on in adoration...wearing jorts. The following conversation was the first big laugh of my night:
Claire: Do you remember when summer meant fireflies, cut off shorts, and ice cream trucks?
Phil: Well we got one out of three! | permalink
A summer with a kid free week, Manny in Columbia, and a new engagement flew by and the second half of the hour was dedicated to "First Days." Claire went to work for Jay's company, Lily attempted to start first grade, Cam took a job at the high school and Luke and Manny had their first day of freshman year. Naturally, Gloria and Phil were both emotional as their respective sons walked into high school and didn't want to be seen with them. Phil expected it with his daughters, but never with Luke. Don't you remember that first day bundle of nerves you got when starting high school? Manny certainly will.
He was up at 5 in the morning ironing, but he also does that when he's depressed so I don't know. | permalink
Haley had me cracking up whether she was poking fun at Alex or flirting with Mitchell's boss. She's finally get her wits about her this season. That girl knows just how to milk things to get what she wants and it is very entertaining to watch. I cringed when Claire made that Christopher Walken joke because you could feel just how painfully awkward she felt in that moment...you know, until she shut down the company's computers by telling the tech guy he was getting fired. That's what I love about this show, you can always find some part of it to relate to. 
Both of Modern Family's returning episodes were strong and made me excited for Modern Family season 5. I laughed out loud a few times, got a little misty eyed at moments and did a combination of the two when Jay started crying at Manny's letter and wanted to mail him his second robe. Only the best shows can bring out that kind of dual reaction! I'm looking forward to more as well as looking forward to your thoughts on the episodes.