The Mindy Project opened this week with a tribute 1999's Varsity Blues and Ali Larter's whipped cream bikini. Seriously, fellas. Be very sad if you missed this one.
Mindy opted for the one-piece look, but her description of where she hid some candy let her guarded sexuality seep through. From there, "The Other Dr. L" focused on Mindy's return to the practice and her having to cope with some changes.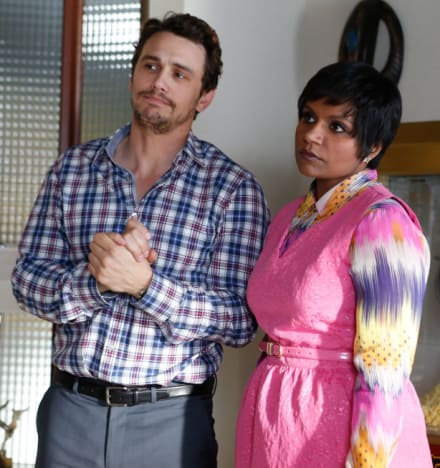 You can't blame the staff for falling for the colorful Dr. Paul Leotard, but you had to feel for the prodigal practitioner.  
Mindy: Okay I have no office, I have no patients, I have this horrible short haircut, my name is not Dr. L anymore and I have a UTI from discount whipped cream. | permalink
Mindy was then showed to her new office in the supply closet, which brought to mind Milton Waddams from Office Space. Part of me would have like to see what an all-star crew from HGTV could have done with that spot, but Mindy decided to take matters into her own hands... once she learned about Paul's low tolerance for alcohol.
Mindy may have hurt her triceps cutting a steak, but she flexed her liver and drank her nemesis under the table. James Franco is a man of many talents, one of which is portraying someone under the influence of any number of poisons. As much as she hated him for moving in on her practice, Mindy still couldn't resist trying to steal a kiss off the passed out Paul, who hilariously came to and began screaming for help.
I thought we had seen the last of Chloe Sevigny's Christina, but then she appeared at Danny's apartment with a box of his things and decided to twist the knife in her ex-husband one last time.
Kudos to Paul for coming clean to Danny about Christina, but Danny had every right to take his swing. Danny had just as much a part in his relationships failure, yet he constantly shows what a good guy he is, such as when he brought Paul his hangover special sandwich. He and his crew of reluctant bachelors playing hoops was pretty comical. The addition of Kris Humphreys to the group was a pretty great scene, too. I loved watching Mindy fix her hair and try to sneak in a hug with the Kardashian castoff.
I wonder if they have room for Lamar Odom.
In the end, Danny returned to the practice only to find out Paul had left. It will be good to have the band back together, but I hope we haven't seen the last of Dr. Paul Leotard.