Hawaii Five-0 Q&A: Chi McBride Talks Action, Top Roles and More
Jim Halterman at . Updated at .
If you've been tuning in to Hawaii Five-0 Season 4, you know that a familiar TV face is now in the mix.
Chi McBride - best known for roles on Pushing Daisies, Human Target and last season's Golden Boy - has joined the show as Captain Lou Grover, who, from the start, does not take kindly to the antics of Five-0 and its leader, Steve McGarrett.
TV Fanatic was on location on the island of Oahu recently and sat down with the cheery McBride – in between shooting scenes involving some pretty intense gunfire – to talk about his new gig on the series and his character's history with Hawaii Five-0.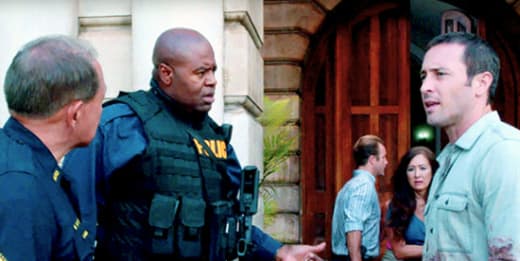 TV Fanatic: So Grover is a character from the original series…
Chi McBride: He is a blast from the past. Captain Lou Grover was a SWAT commander back on the old Jack Lord series and now [Exec Producer] Peter Lenkov is really trying to stay as true to some of the mythology as possible and part of that is bringing back some of these characters that the first generation that watched Hawaii Five-0 would remember and then introducing these characters and the history of this character to a new generation who is watching Hawaii Five-0 so it's cool. They called me up. The good folks at CBS decided to keep me employed after Golden Boy.
TVF: And they seem to be keeping you busy in the action sense because I've heard gunshots today in one of your scenes.
CM: Okay, well you heard gunshots and me diving. To be honest, I'm getting to be a little bit more known for doing action. It opens up another portal to your career actually…I think Human Target really started me with doing action and it's great because, like I said, it opens up a portal onto your career because people don't know that you can do something. This is a business where people only let you do what they think you can do. It's great.
TVF: The relationship between Grover and McGarrett isn't exactly a close one, right?
CM: Yeah, Grover and McGarrett pretty much get along like water and electricity. That is pretty much what their relationship is tantamount to. It's kind of a classic example of people who don't like each other because deep down they're very much alike. We both want the same thing. We both want to lock up bad guys, but we both have a different approach in terms of how we do that.
Grover's really by the book. If you talk to a lot of coppers, even the ones that are by the book, [they] understand that there's a little bit of gray area but McGarrett is all gray area so it's a matter of getting both of these guys to meet in the middle and they're kind of forced into a set of circumstances in this particular episode that seemed like just a benign, menial task and it ends up opening up into this huge conspiratorial operation.
TVF: Will we find out about Grover's backstory and who this guy is?
CM: Yeah, we're going to get a little bit along the way. You're going to get introduced to his daughter right now and it starts bubbling to the surface that he's not just here because he likes the weather. There are some issues that have happened with him and his family and his job. He comes from Chicago and he was really on a fast track to end up becoming the police chief of the city of Chicago and then things change. We're going to find out as things go on.
TVF: Do we know who is playing your daughter?
CM: Yeah, a little girl (Paige Hurd) that is so cute. You know you need a gun if you're her father. You know what I mean? I mean, I've been knocking out Y chromosomes since 1980. I've got nothing but boys. You know what I mean?
TVF: Any roles you would ever want to go back to or just wish they had gone on longer?
CM: I'm not really sentimental like that because I understand this business. If you don't understand the concept that things end, you are going to be doing a lot of drinking and snorting cocaine. You know what I mean? It truly is what it is.
Do I have roles that I love? Of course I do. I like all of the roles I've played. I actually really loved playing Detective Owen on Golden Boy. I remember playing Emerson Cod (from Pushing Daisies). What people come to me the most for is really Steven Harper (on Boston Legal), but Emerson Cod was probably the most fun because he pretty much let me say whatever popped into my head.
Hawaii Five-0 airs Fridays at 10 p.m. on CBS.
Jim Halterman is the West Coast Editor of TV Fanatic and the owner of JimHalterman.com. Follow him on Twitter.