Well, Homeland Season 3 Episode 5 wasn't nearly as infuriating as last week's "Game On," so maybe there is still some life left in Homeland.
After a divisive twist that had some wanting to give up on the show and others defending it to no end, it was nice to watch a more straight forward hour in which Claire Danes was able to portray Carrie's craziness with purpose.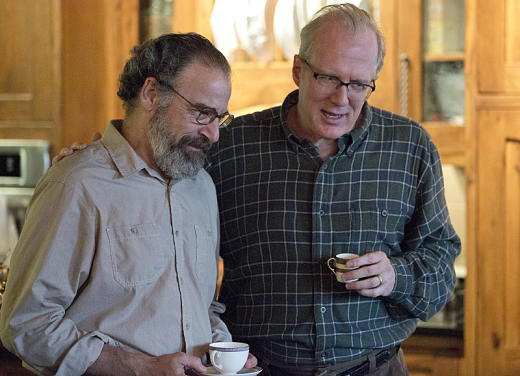 Now that we knew Carrie and Saul's plan was to get in with the Iranians, all we could do was watch and wait to see how her desired face-to-face with Javadi would go down. It turned out to be a bit scarier than Carrie probably imagined.
Bagged and stripped, Carrie was in it for real, and Danes was fantastic in showing all the emotions the psychotic agent was feeling in those moments.  The best part of it all, however, was that it gave the audience hope that this was leading to something even better.
Stories in which Carrie is in deeper and deeper with Javadi could be very interesting.  Being unable to figure out whether Javadi knows Carrie is attempting to play him, unlike last week's misdirection, would be the kind of suspense that worked so well in Homeland Season 1.
Also working in Homeland's favor moving forward is the fact that Saul was duped into thinking that he would become the permanent Director of the CIA.  I understand the director still has people above him to answer to, but with Saul in charge of the agency there wouldn't be anyone as close by for him to butt heads with.
Maybe Homeland will end like its older sister 24 where a revolving door of CIA Directors come through to battle Saul just as Jack Bauer would deal with yet another a hole from "Division" season after season.
Handing the position over to the guy who has been so critical of the agency through the first part of this season seems a bit on the nose, but Saul's speech at the goose hunt outing made it all worth it.
What haven't been worth it have been the amazing adventures of Dana and Leo.  It's almost become comical that the writers wrote this entire story line thinking, 'yeah, this is going to be good.'  How many people of the two million or so watching each night are honestly enjoying Dana and Leo?
As I've said time after time, the Brodys don't need to be on the show anymore.  If they're directly involved with Nick, then yeah I get it, but they don't need to attempt to carry their own arcs.
Speaking of Nicholas, we still have only seen him in one episode, which isn't a good thing.  Damian Lewis needs to get back on the screen to help anchor this show.
Overall, "The Yoga Play" was a small step back in the right direction for Homeland.  What did you all think of the episode?  What were your favorite moments? What didn't you like?  And how do you think Carrie Mathison would do hunting geese?
Dan Forcella is a TV Fanatic Staff Writer. Follow him on Twitter.