Holy... I'm gonna need a double banana split after that crazy Sons of Anarchy episode.
Chuckie, can you hook me up?
On "Sweet and Vaded," SAMCRO established a new clubhouse, Walton Goggins was featured prominently as Venus Van Dam and Tara proved that she's learned some seriously disturbing lessons from Gemma Teller Morrow, using those lessons to send her mother-in-law to the slammer and put her escape plan into full motion.
Let's start there, shall we?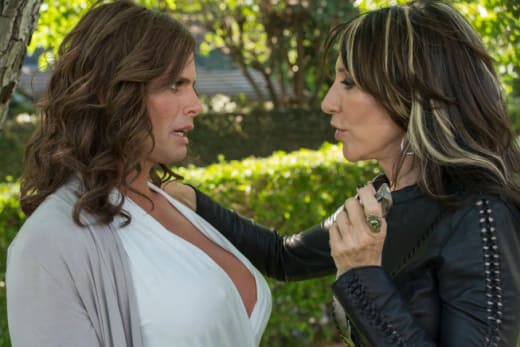 Well done, Tara. Frightening. Nauseating. Difficult to watch. But very well done indeed.
As discussed in our Sons of Anarchy Round Tables, something seemed amiss about Tara's pregnancy from the start. The storyline just seemed to come out of nowhere and/or Kurt Sutter has done such an excellent job of turning Tara more and more mischievous that it was hard not to suspect something else was going on here.
But a phony miscarriage? Using her own blood in a bag that she hid in her crotch and then exploded? To set Gemma up and get a restraining order against her children's grandmother? Safe to say I didn't see that one coming.
It's sick stuff, but desperate times call for desperate, Gemma-like measures and it was clear that Tara's mentor almost admired her long-time protege after she figured out what was going on. There was a look of resignation on Gemma's face when she was being cuffed, a realization that she only had herself to blame for creating this monster.
How many times has Gemma told Tara to protect her family at all costs? Remember when she set up Tara to beat the heck out of Nero's right-hand woman, Carla? It's like Gemma had been training Tara for this day for years, only she never imagined she'd be the victim of such dirty machinations.
The hour featured two main storylines and each played on the theme of how parents make decisions that affect their children.
Tara, of course, is now doing all she can to plan for the safety of hers... while Jax was faced with the prospect of how his lifestyle will negatively impact those same kids, reacting in pain, horror, shame and, finally, violence at the presence of Venus Van Dam's horrid mother.
Yes, Walton Goggins was featured prominently in what was a humorous role when we were introduced to Venus on Sons of Anarchy Season 5. But Van Dam's return wasn't meant to elicit laughs; it was meant to shine a light on how parents can totally eff up their kids.
No, Jax isn't filming himself having sex with his own kin. Nor has he created a child porn business. He isn't nearly that depraved. But he is raising his sons amidst a culture of bloodshed, surrounding them with guns and bringing dangerous enemies to their doorstep. As Venus' mother continued to tell off her child, as the venom continued to spew from her mouth, Jax's eyes filled with both tears and rage.
He shot that woman partly because she deserved to die. But largely because he saw a reflection of his own parenting mistakes and could not stand it any longer.
Where will his relationship with Tara go from here? Nowhere positive, that's for sure. It's hard to blame Tara for her extreme actions, although easy to say she should have taken them a long time ago.
But at least she's doing more than talking, which gives her an advantage of her husband. Tara wants her sons to be safe and will do anything to accomplish that goal. She's sick of waiting around for Jax to make any kind of real move because, let's face it, when was the last time he put his real family first?
So we're left with Gemma joining Nero in jail and wondering if he'll flip on SAMCRO. With the ties between Tara and Gemma (and Jax?) seemingly severed for good. And with ADA Patterson putting the pressure on from every conceivable angle, desperate for someone to connect SAMCRO on the legal record with that gun.
And with the sight of that blood bag bursting inside Tara's pants for all to see and react to in horror. Yeah... that's gonna stick with us for awhile. Make it a triple, Chuckie.
Matt Richenthal is the Editor in Chief of TV Fanatic. Follow him on Twitter and on Google+.