"The Freelancer" was the next check box on Raymond Reddington's blacklist, but the shiny fast paced continuation of the pilot's setup was full of its own intrigue and excitement, along with James Spader acting ingeniously cunning, weirdly charming and being just plain fun to watch.
Spader's character is clearly the highlight of The Blacklist, and he's used to full effect. He's got that Hannibal Lecter vibe (without the fava beans or people eating) playing a game where he's always one step ahead even if it seems like he's tagging along.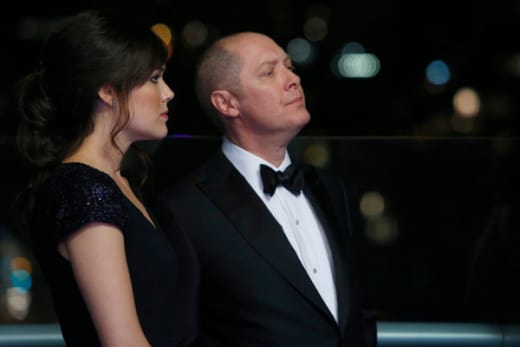 Clearly, the FBI, CIA or other government acronym can't control or contain him. Delay his demands, sure, but he'll get what he wants eventually. But what is his end game? Why is he so keen on Elizabeth Keen?
I keep getting a feeling that he could possibly be her father, especially because her family past seems so cloudy. And it would make sense in his interest specifically in her, fresh out of Quantico. He even told her to pretend to be his daughter, but maybe that's not pretend at all.
It's odd because he carries himself off as potentially duplicitous. Is he really a good guy catching bad guys without a catch? Is he a bad guy worming his way into the system for nefarious means?
He doesn't like the duplicity of the humanitarian who actually enslaved children, but he's not so black and white in his approach either.
And that's what helps make Raymond a compelling character, aside from his quips and that creepy know-it-all laugh. He draws you in, fools you... and then reveals he was on your side all along. At least for now.
Elizabeth is still growing on me, but I'm glad that she's willing to take action, even if she feels conflicted over everything that's suddenly been dumped in her lap.
Her world is no longer simple or concerned about adopting babies. She has to worry about a person who she loves possibly not being who he says, dealing with Raymond and his agenda, saving the day from a variety of villains and trying to make it out in one piece physically and emotionally.
It's a lot to handle - and she's doing a pretty good job. But there's no way she can just bury the passports and money. It's going to come out eventually and I'm sure Raymond will be there to grin and witness the fallout.
One thing I didn't get for Elizabeth was why she chose to yell out "Stop, FBI" when trying to catch the assassin instead of being a little more stealthy. I guess it did allow for a chase scene and interrogation where the new CIA member was willing to twist some legs to get answers.
I'm looking forward to exploring those side characters a little more as well.
And the episode was full of fantastic music choices from The Rolling Stones' "Sympathy for the Devil" to Nina Simone's "Sinnerman." It adds not only to the pacing of the scenes and episode, but makes the hour feel bigger than just a TV show. I hope using music like this continues throughout the season.
The Blacklist is mysterious and compelling without being too over the top and complicated. There's enough entertainment, fun, action and the blossoming of some very interesting characters to keep you hooked. And this might just be the comeback role for James Spader in a definite NBC hit for the fall season.
Sean McKenna was a TV Fanatic Staff Writer. He retired in May of 2017. Follow him on Twitter.