The Originals Q&A: Daniel Gillies on Being Like Obi-Wan, The Enchanment of Life and More
Matt Richenthal at . Comments
In April, CW viewers were treated to a special episode of The Vampire Diaries, one that took them down to New Orleans and introduced them to the supernatural happenings in The Big Easy.
The installment was a hit, The Originals was ordered to series, but a challenge was therefore presented to Julie Plec and company:
How do you write a premiere after already setting up the show's premise months earlier? How do you draw in viewers who may not have tuned in for the backdoor pilot, while presenting something fresh for those who did?
"It's told through a different prism," Daniel Gillies explained to me of this Thursday's opener. "We're looking at what we saw in the pilot from a different perspective, showing the motivations behind Elijah's desire to see his family whole again."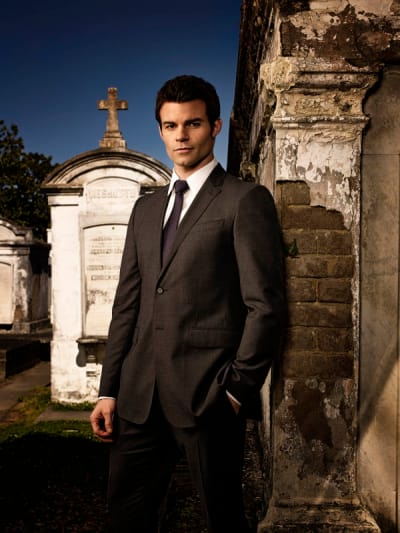 And that won't be the only difference between the series premiere and the show from which The Originals is spun.
There's a darker tone in the voodoo-filled streets of New Orleans, one that Gillies chalks up to the setting, but also to the characters.
"The show will delve into more adult themes," he told me. "The protagonists aren't high school students; they're millenium-old vampires. The designs they have are of far greater consequence. They're looking to build an empire."
Gillies compares the plans and machinations of Elijah and Klaus on The Originals to a "supernatural game of chess," and it's clear who represents the king: Charles Michael Davis' Marcel. We'll witness him making some major threats on tomorrow night's episode, while we'll also be treated to a seated showdown between Elijah and his brother's former protege.
"I just can't wait to do more things with Charlies," Gillies said. "He's so great. We have that fun little scene, but I was hoping it would be more. I was hoping it would be like DeNiro and Pacino in Heat, but we could only do so much here in the interest of time."
Have no worries, though, fans: Gillies promises plenty of "dueling" between these two enemies.
He also won't deny that there could be an attraction between Elijah and Hayley, though it may not be of the romantic nature. It more closely resembles the bond his vampire shared with Elena on TVD.
"One of Elijah's most magical qualities is that, beneath this sometimes ruthless exterior, he's still enchanted by life. He's still excited after all this time and Hayley's baby, it represents a new hope. He's seduced by her vulnerability."
Gillies, of course, is a series regular on The Originals, following many years in which his character only showed up sporadically in Mystic Falls (though Elijah's presence was always felt, the actor believes, "like Obi-Wan Kenobi… from the good Star Wars moves, the first three").
Still, a shocking event that concludes The Originals premiere may leave viewers wondering about Elijah's future on the show. They need not be concerned.
"He'll always be around," Gillies said. "Elijah is like a venereal disease."
Matt Richenthal is the Editor in Chief of TV Fanatic. Follow him on Twitter and on Google+.