Members of the Reagan family tackled different types of challenges as they tried to make sure justice got served in Blue Bloods Season 4 Episode 8.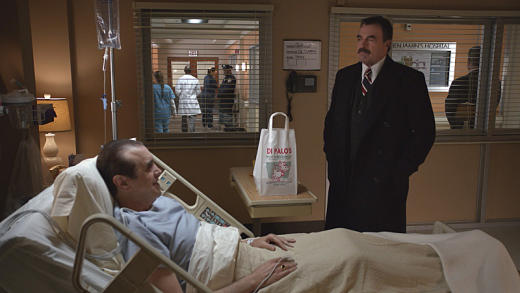 I couldn't have been more surprised to see Danny on a jury, nevermind as the lone member submitting a non-guilty verdict in a murder case. Like most, I would have expected Danny to be the one pushing for a conviction but when the evidence didn't support it, neither did Danny.
Dashawn Williams was darn lucky to have a detective on his jury who saw the circumstantial evidence for what it was and recognized all of the holes that Dashawn's court appointed attorney obviously missed. And even luckier when Danny refused to walk away from the case after the mistrial.
Eddie's saga was disturbing. At first I found myself annoyed that she brought Jake back to her place after their first date just to send him away. I understand the romance of a good night kiss at the door but it seemed unwise considering they'd just met.
The assault was stomach turning without ever having to witness much of it and I was relieved that it hadn't been worse than it was. Eddie's behavior was inconsistent yet typical of someone who's been assaulted.
She wanted to hide away but if she didn't want Jamie at her door then she should have returned one of his many phone calls. She obviously didn't want to speak to her assailant again but she never blocked his number from her phone.
I understood why Eddie would rather go beat on the guy than press charges. Going public would put her in a vulnerable position, and no doubt many of her male colleagues would view her as weak whereas causing Jake some serious pain would feel as though she were regaining some power and control.
Lucky for her that Jamie was there to point out that assaulting her assailant could lead to the end of her career.
Jamie was a good friend and partner throughout. He pushed…just enough and always made sure Eddie knew he had her back.
Finally, Frank had a mess on his hands thanks to an old friend. I appreciated that Frank never abandoned Angelo despite the type of people he chose to represent. They'd been friends since they were kids and as long as Angelo wasn't doing anything illegal, Frank would stand by him.
I loved that Frank ordered a perp walk with full media to keep his friend safe and give him cover from his mobster clients.  I wouldn't want to play poker against Frank Reagan.
My only disappointment was this week's Sunday dinner. It was much too short and much too quiet and much like Henry, Nicky's joke about getting a tattoo made me wish for the quiet once again.
Hopefully next week's Thanksgiving dinner will be a lot more entertaining.
C. Orlando is a TV Fanatic Staff Writer. Follow her on Twitter.