Everyone was judging someone in Blue Bloods Season 4 Episode 7 but did anyone have the right to be? 
Even something as simple as driving styles had Jamie and his partner squabbling as though they were siblings.  I did find it funny when their argument ended up spiraling down to name calling. Jamie's the boy scout. Eddy's a daddy's girl.
That just about covered it.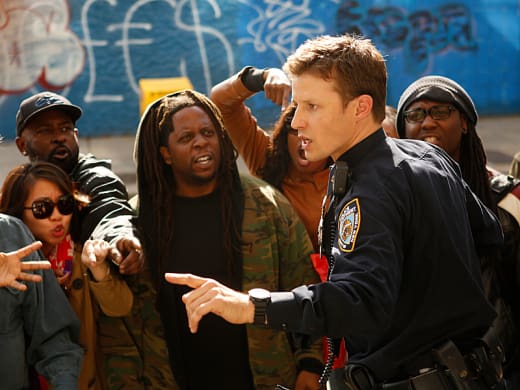 Their day got way more complicated when they got a shots fired call but it was Officer Montero's day that got a whole lot worse.

I figured the shop keeper stole the gun from the beginning. She was just too vocal to be an innocent bystander and she certainly hated the cops enough to do it.  Frank's manipulating her to hand the gun over and come clean while giving her an out was both brilliant and generous.
The discussion about the shooting of a 14 year old boy over Sunday dinner was classic Blue Bloods. Everyone got a say. The kids were young enough to see the situation as simple right and wrong and shooting a 14 year old is wrong. But the adults at the table knew that things could be a lot more complicated than they seemed and it was best to get all the facts before making judgements.
The underlying conversation between Danny and Henry was hilarious as they threw lightly veiled digs at one another in the middle of the debate. Frank would have had to have been deaf not to notice.
It didn't surprise me that Henry would try his hand at an illegal high stakes poker game. I could see him looking at that as a victimless crime but many years later that decision put Danny in a horrible position.
Of course Danny's first instinct was to protect his family. Unfortunately that road led to another man getting killed and although it wasn't Danny's fault directly, he still carried the burden for his murder.
And we got to see that on his worst days, even Danny Reagan seeks absolution.
It was interesting to see the new dynamic between Frank and the mayor since his shooting. I liked that Frank got called out on his change of behavior when faced with the man in a wheelchair, even if the change was unintentional.
These two have a complicated relationship and it adds a realism to these controversial moments.  But it's nice to seem them both keep their sense of humor as when Frank told the Mayor in this Blue Bloods quote…


Try not to smile when they boo when I'm introduced.

Franks
Of course now that Frank's mentioned it, I'm sure it will be even more of a challenge. Maybe Frank won't judge the man too harshly when he fights to hide his smirk.
C. Orlando is a TV Fanatic Staff Writer. Follow her on Twitter.