Alright. If you saw the events that occurred in the last 10 minutes of Haven Season 4 Episode 9 coming from the beginning of the season, you deserve a TV Fanatic Fan Patch. We don't have one of those, but you deserve one.
William is a bad guy? But he's played by the always adorable Colin Ferguson! Tell me leaving the Bar(n) and entering Haven gave him his own Trouble - please!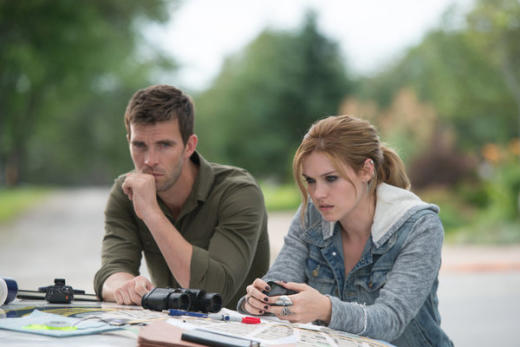 The news is out - Audrey didn't shoot Nathan! Discussions with Vince and Dave lead me to believe that she would have if the Bar(n) thugs hadn't turned up in her high-rent apartment in The Grey Gull causing her to shoot at something other than Nathan's heart.
To hear Nathan tell it, they were ready and willing to go through with it until the thug crept in. Ironically, if William had just let Audrey go he would have had her all to himself, wouldn't he? There will have to be a reason given as to why he interfered with that little scenario somewhere down the road, as he seems to have shot himself in the foot.
So do you think the little pebbles in the ears purposefully created an Audrey jealousy scenario, or is everybody really that paranoid of Audrey? Of course, they've all had encounters with her, but how can Audrey every have a real relationship or friendship if that's where people's paranoia takes them? It's kind of sad.
If anything, though, the paranoia of Nathan and Jennifer let me know how much they really cared for Audrey and Duke. While I didn't need that reassurance from Jennifer, I did from Nathan. He's been so unemotional lately that seeing him near tears when talking about taking out William to secure Audrey's love was kind of nice.
When Audrey and William were walking up the hill, I was with Audrey. He was infected. It never occurred to me that he was the infector. He's also been responsible for so many other deaths by way of spreading Troubles to the non-Troubled just to try to get Audrey's attention. How very kindergarten of him.
At least now we know. There is someone inside of Lexie/Audrey/Lucy/Sarah that predates them all and she "belonged" to William. Whether he understands the concept of love we have yet to learn. That's a great person to consider though, isn't it?
I wonder if Agent Howard was Audrey's protector from William, and once he died, William and his thugs were free to enter her life again. That's a frightening thought. Perhaps he killed her son inside the Bar(n) and that's why he hasn't come out yet. 
It's a lot to ponder. What are you thinking?
Carissa Pavlica is the managing editor and a staff writer for TV Fanatic. Follow her on Twitter.