Before I dive into some inside chat on hits such as Bones, Parks and Recreation and Mike & Molly, I'm going to start emptying this Notebook with a little gushing about a show that has been reminding me with every episode just me just how much I love TV, especially when it's creatively knocking it out of the park.
Let's go!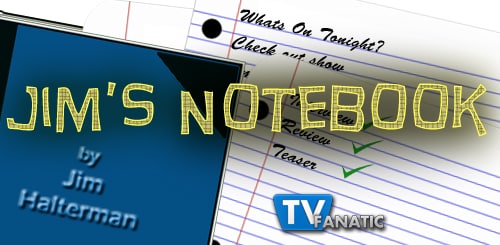 The Good Wife: As you probably know, I watch a lot of television... and one of the downsides is that it gets harder and harder to feel truly impressed sometimes. Thankfully, one show is fueling my TV Fanatic heart and making it swell: CBS's The Good Wife.
Once a series gets deep into its run (we're in Season 5, people), you often feel like you've seen it all and you know all the tricks (Case in point? The Vampire Diaries, which I so desperately want to be wow'd by but, sorry, ain't happening yet this season) but the CBS drama has changed up its landscape in an organic, fluid and exciting way that I would never have predicted. 
Having Alicia and Cary leave Lockhart/Gardner to start their own firm has been brewing since late last season, but The Good Wife Season 5 Episode 5 (appropriately titled "Hitting The Fan") changed everything.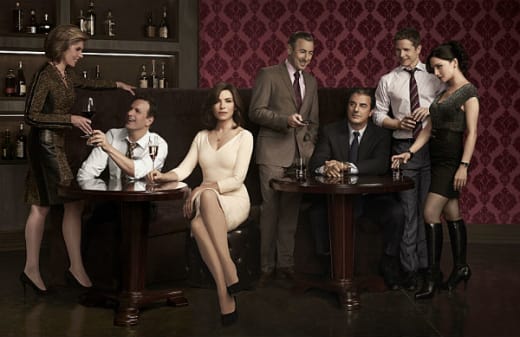 If anything, that installment proved that this show should never be reduced to being called a 'law procedural' because Robert and Michelle King's creation is proving over and over that it's the best character drama on television today.
Not only did we have the professional shake-up at the law firm - which is now pitting once-loyal colleagues against each other with vengeful thirst - but the personal layers between the characters is equally vibrant, maybe even a bit more.
And my only concern in all this was the character of Alicia. Would Alicia become too hard in this new step as she took stands that we've never seen her take before? Would she become a character we no longer recognized and cheered for? Not one bit.
As Alicia told Diane (Christine Baranski, also doing stellar work this year in the wake of Diane's professional allegiances directly infiltrating - and destroying - her broader career aspirations), she had great teachers and, like a good pupil, she's only taking what she's learned and making it work for her.
Wisely, we're still seeing plenty of vulnerability in Alicia as she closely watches daughter Grace grow up in front of her eyes. 
Another way I know a show is hitting its stride is an archaic ritual known as live viewing. Partly because of my work, I tend to either see shows before they air for interview or review purposes or I'm catching up on the DVR or Hulu like the rest of you when I occasionally fall behind - but if I am not watching The Good Wife live on Sunday nights at 9pm, then I seriously feel like I'm missing something special.
Or, as I like to call it, being Wow'd.  (The Good Wife Season 5 airs Sundays at 9 p.m. on CBS)
Parks & Recreation: As you saw in last night's double episodes, Leslie Knope has officially been recalled and will be out of office in 30 days. The natural question is…what happens next? I sat in on a special press screening and Q&A with members of the cast and co-creator Mike Schur earlier this week to talk about what the next episodes hold.
"We had a lot of fun with what she does as a dead man walking…a lame duck, so to speak" Amy Poehler revealed, while Schur added: "The next two episodes are largely about Leslie with a massive ticking clock on her career…it's largely about how she tries to finish off her career as a city councilor."
Schur also teased that the upcoming 100th episode is literally about her final hours in office, while also including a story for Tom and the final sale of Rent-A-Swag.
As for the imminent departure of Rashida Jones (Ann) and Rob Lowe (Chris), the group was taping that episode the same week as this Q&A. "We're a really tight family here," Poehler explained. "You never really feel like you're saying goodbye to family when they move somewhere else. You just know you won't see them as much as you have and would like to…I'm certain that Rob and Rashida will make their way back to Pawnee as many times as we can drag them."
(Parks and Recreation airs Thursdays at 8 p.m. on NBC)
Bones: For some reason, I'm not bothered at all with the fact that the long-running Fox series is moving to Fridays starting tonight because with the trend of watching online or on the DVR becoming the norm, being sent to air on Friday nights is no longer a death sentence.
Another reason I'm not concerned is because of what Executive Producer Stephen Nathan said earlier this week, which assured me there's plenty of good story coming, too. For example, in one upcoming episode, he shared, "Hodgins is somebody who is sent out into the field, something he always loves a chance to do, because there is a murder that revolves around a family that was close to his family when he was growing up.  So, he is going into a world of wealth that he no longer enjoys."
Also, in that episode, we'll get more with the new serial killer, who, you'll remember, Pelant warned Brennan about.
"Brennan is the type of person who is not going to forget the words of warning that were given to her by Pelant, and that has been simmering for the past six episodes or so," Nathan explained, "and we will see that surface in a way that concerns Booth and the other people at the lab and is something they are all going to have to contend with, seeing how immersed and overwhelmed Brennan is by the idea of this new serial killer." 
Sign. Me. Up! (Starting tonight, Bones Season 9 airs Fridays at 8 p.m. on Fox)
Mike & Molly: In Monday's episode, Melissa McCarthy's Molly, seeking new adventures for her burgeoning writing career, goes to her sister's job at the mortuary with, of course, hilarious results including McCarthy and Katy Mixon (Victoria) climbing into empty coffins. Was it Mixon's first time in a coffin?
"Definitely true!" she said, adding of the experience: "Honey, it was so creepy! I couldn't even put it into words…anything for comedy!"
Mixon also marveled at how her co-star has handled her success both on TV and on the big screen in movies like Bridesmaids and The Heat.  Would she want that for her own career?
"I think that what is happening, she has just handled it with such grace," she said, admirably. "I think for an actor you just long to have any opportunity known to man and, of course, yes, I would adore for that time to come and all that kind of stuff but I have been really blessed where I am."
Mixon, who is also currently appearing as April on the final episodes of HBO's Eastbound and Down, responded when I asked if the show would have a happily ever after, "It was just the most incredible time…I think there is a happily ever after in a Kenny Powers way. You feel me?"  
(Mike and Molly airs on Mondays at 9 p.m. on CBS. Eastbound and Down airs Sundays at 10 p.m. on HBO)
Jim Halterman is the West Coast Editor of TV Fanatic and the owner of JimHalterman.com. Follow him on Twitter.