Cam's cattle call to the pigs on Modern Family this week was so jarring and loud that I think my neighbor has turned up her TV volume in the last hour in retaliation. Oh, apartment living.
But, yes, I'm so with Mitchell when he was surprised that there was an animal who would actually run towards that sound.
It was a fun trip to the farm for all in Modern Family Season 5 Episode 8.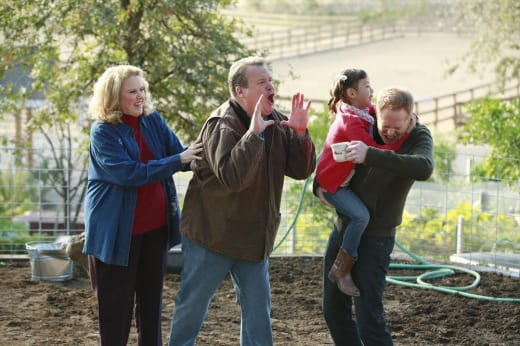 Okay, it took me two viewings to pick up on Mitchell's "Missouri/Misery" joke but it was pretty funny. I have to say, though, I do love when Cam embraces his Western roots and gets all cowboy on us. I love when Lily picked up on it and started saying y'all. It's a contagious thing. I find myself speaking with a slight twang after Nashville episodes.
Or anytime I'm re-watching Friday Night Lights and Tami Taylor speaks.
Mitchell putting on the overalls to embrace life on the farm was cute. Also, it gave me a giggle that they were Pameron's overalls he was wearing. Did anyone else forget how totally touchy Cam's mom was? Eek! Well at least she loves Mitchell and Cam together, unlike Grams.
We never told Grandma 'bout the gay.

Cam
I say just don't invite her to the wedding! If she can't accept their love, tough luck. Besides, if she's on deathbed number-two and Pepper is still in change of planning, who knows when this wedding will even happen.
Elsewhere, Jay and Claire went to ClosetCon 2013 for work. Jay was interested in meeting old buddies. Claire was super psyched to sign up for activities. By the way, I could totally see Claire being that way. She's not the mom who lets you relax on vacation, she's the one who wants to keep doing activities. Now that I think about it, it's what makes her and Phil really compatible!
Can you believe Jay got one of his friends to try and sway Phil to Texas with a job offer? I can't believe he disliked Phil that much! Who dislikes Phil!?! His reaction to Jay's closet of artifacts and toys was amazing as was his reaction when he broke the Apollo model. Much funnier than Gloria's "Houstons, we have a problem."
I do have to give Gloria props though for keeping Alex and Haley tangled together for an extra hour. The girls needed to learn a lesson and they did.
As an unbiased viewer, I'm gonna say that I think the pizza guy was more into Alex. But then again, like I mentioned in my Modern Family Season 5 Episode 7 review, I think something is totally going to happen with Haley and the manny.