NCIS: Los Angeles Review: The Right Now

Carla Day at . Updated at .
NCIS: Los Angeles started "Recovery" like many other television procedurals before it: with a dead man in a pool. In this hour, the answer of who killed this man in the pool and why, however, was unique.
I never saw it coming until the motive was revealed on NCIS: Los Angeles Season 5 Episode 9. It felt a little far-fetched that the intelligence could be put to use in such a short amount of time, but beyond that it was believable. A disaster is just one mouse click away....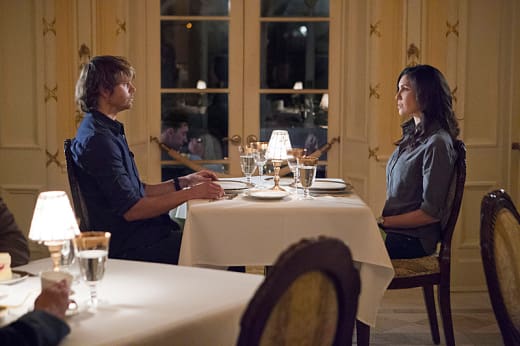 While this week wasn't nearly as meandering in the beginning as NCIS: Los Angeles Season 5 Episode 8, it took quite awhile for the investigation to get on the right track. The stuff at the rehab facility ended up being necessary to solving the case, but wasn't particularly engrossing to sit through.
Both Deeks and Kensi's undercover roles could have been better utilized for some funny moments. The conversation between Kensi and the cook should have provided a few laughs, but it wasn't very interesting or funny. It felt like a means to get the protein bar mention into play so it could be used to solve the case and nothing more.
And a sex addiction ... Deeks never appeared like someone struggling with his urges. He interacted with two different females and there was an obvious lack of sexual attraction or interest. For someone with a sex addiction, he should have been like a dog looking at a juicy steak in front of him. And where were the laughs?
The visit to the car dealership ended up being a dead end for this case, though I hope it comes up again. There has to be a reason that Homeland Special Agent Tom Panetti is working undercover as security for the owner. 
It's crazy to think that a Navy Officer could go to rehab, end up being drugged, questioned, and killed for information about the US drone program. And that he had enough intelligence to give the extremist group access to not only control a drone, but launch a missile. Shouldn't there be rotating security codes? Or, double passcodes needed? 
They aren't nuclear weapons, but I would think that a single Navy Officer wouldn't have all the key details necessary to take that kind of control after hacking into the secure system. I hope not anyway. As far as creative license, it definitely created a tense period of time while the team tracked down the perpetrator.
With only seconds to spare, Sam was able to prevent the bombing of the US ally, Pakistan. If that missile landed in Pakistan, it would have created a foreign relations nightmare. Scary!
At least that was the only nightmare of the episode. The final scene could have ended up being one for Deeks, but instead it was something entirely different.
Kensi: Because once again you're trying to say something without actually saying it. And it's driving me nuts.
Deeks: I think you lost me.
Kensi: No. I don't think I did. I think you know exactly what I'm talking about.
Deeks: Do I?
Kensi: Damn it, Deeks, you asked me out on a date without actually asking me out on a date. Now, if this keeps going this way and we can't communicate, and we've been over this -- you never say what you mean, and if this is the way it's gonna be, then I don't know how we're ever gonna --
Deeks: I don't want to be here with you right now.
Kensi: What?
Deeks: I want to be at my place, right now ... with you.
WHAT!?!?! After a few episodes of Deeks and Kensi acting as if he was never tortured, never expressed that they were a love story, and never used her as his constant ... they finally had their moment. The talk. Sorta.
Kensi was a bit harsh on him. After all he is the one that kissed her and later told her straight out how he felt. Sure, he's had problems saying what he meant in the past, but he did open up to her. Should he have asked her on a proper date? Perhaps. Though, this move felt more like him just being Deeks than him holding back.
I'm not sure there could have been a more perfect time or exchange between them to finally get them to move forward. It was honest and heartfelt without being overly sappy and romantic. They are neither of those things. In that moment and I hope that night, they will finally release their pent up emotions and feelings for each other.
When they wake up in the morning ... a whole new set of problems will manifest themselves. And, it likely won't be pretty. I sure hope that next week opens with the happy and not the complicated!
Carla Day is a staff writer for TV Fanatic. Follow her on Twitter and on Google+.