Once Upon a Time in Wonderland Review: Worse Than Death

Christine Orlando at . Updated at .
There are things worse than death, like becoming a statue or being transformed into someone's walking stick. 
On Once Upon a Time in Wonderland Season 1 Episode 4, Jafar made both of those things happen... as well as something far worse.

He convinced Alice to use a wish.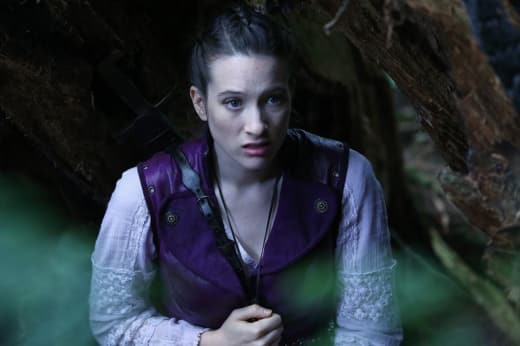 Tonight we got a glimpse into how an abandoned boy turned to magic to seek his revenge…and then how that path led him to evil.
It appeared that Jafar's father left his bastard son to a life of poverty and how that sparked a hate in the boy the equivalent to the fire of a thousand suns.
So apparently Jafar's always been one to go overboard.
Allowing an innocent man to die just so he could learn a magic spell was definitely a turning point and was the moment I stopped feeling any sympathy for that hurt little boy he'd once been.
Turning his teacher/mistress into his serpent staff when he no longer had a use for her was cruel, creepy and kind of cool. Does that mean he can bring her back if he has the need? And what will her reaction be if she should ever break free of her new form?
Speaking of breaking free, the Knave certainly found himself in quite a plight. Jafar won't kill him but how long can one survive as a stone statue? Probably quite a while since we're talking about Wonderland.
One of my favorite scenes was the Knave's conversation with The Red Queen. All of that anger made it clear they both still have feelings for one another. I'm guessing theirs was one heck of a nasty breakup.
When he's begging his Anastasia to kill him I have to believe he was hoping she'd crack, just a little.  Later, Alice seemed to be hoping to reach the queen's heart but it's unclear how much of it there is left.
Alice was shocked when The Red Queen let her go, but her explanation in this Once Upon a Time in Wonderland quote said so much about this land they're in.   


You are in prison. What do you think Wonderland is?

The Red Queen
It also made me wonder if the Queen felt the same away about her existence here.
This episode left me with a lot more questions than answers:
Will Lizard and Alice team up to save Will?
Can Cyrus break out of his cage on his own?
How will that serpent staff come into play down the road?
Most importantly, what type of revenge requires the rules of magic to be changed in order to accomplish it?  Do you have any idea what Jafar's plan is and do you think Alice can hold off using those last two wishes in Wonderland?
C. Orlando is a TV Fanatic Staff Writer. Follow her on Twitter.