I'm a little late to the Orange is the New Black party, and I hope some of you are too... or perhaps you are just ready to relive the series already.
Part of my reluctance in watching has been my innate and somewhat irrational fear of going to prison.
If an actual prison experience is anything like Piper Chapman's first day in Orange is the New Black Season 1 Episode 1, then it's not as bad as I imagined, but certainly no day at the spa, either.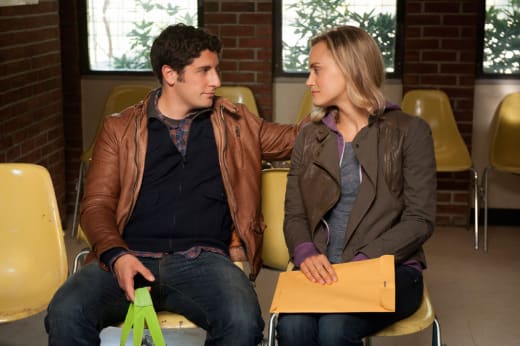 Am I alone in wondering what kind of decisions I would make if I found myself in the same position as Piper? Given her financial situation and status in life, she was able to go through the trial process on bail and was assigned a time self surrender into the prison system. 
I grew up with classic rock music, and I kept singing "Never Surrender" by Triumph in my head while watching. When the prison counselor, Sam Healy, told Piper there was a crack dealer sentenced to only nine months; a woman who had accidentally backed up and hit a mailman - cracking his clavicle - sentenced to four years; and there sat Piper, who carried money - one time - 10 years earlier for her girlfriend sentenced to 15 months; it made me wonder about the justice system in general.
It really is the luck of the draw, and even though society as a whole tends to gripe about injustices done to people based on their various lots in life, it seems like sentencing is the equalizer. Once you're in the joint, it doesn't matter how you got there or why, or who you were on the outside - just that you're there.
It's an incredibly sobering thought. Could you self surrender, or would you try to escape?
Essentially, you're just living your life and one day you drive to the prison, walk in and don't come back out. It's unfathomable to me, and yet I think the majority of us would handle it much like Piper did - with a combination of wishful thinking about what it would be like inside, how she will get through (she'll be ripped when she gets out) and moments of self pity and despair.  
Her fiancé, Larry, who asked Piper to marry after learning about her lesbian past and temporary turn as a money mule for her drug lord lover, seems - at this point - to be the perfect guy. He enlisted his father's attorney to work on her behalf through the trial and is standing by her as she enters prison.
Even his parents seem more concerned with her well-being than her own (although it was perfect when her grandmother was disappointed to learn she wasn't into her life of crime for the money).
It seems easy for Larry, eating Chinese food with his parents, to tell Piper buck up and think of her 15-month sentence as an adventure. The ease in which he was able to deliver that speech made me think that his enthusiasm with the whole thing won't last throughout her sentence.
At some point, he's going to have to get angry at what she did 10 years ago, for getting caught and leaving him alone. Reality will hit. He's human. If not, that might be even more disturbing.
On Piper's first day, she meets some decent people in prison. Not all of the women want to gang rape her, and some are helpful. They tell her how to make her bed, where to stand upon count, about the fungus in the showers and where to find all the nice "white people." Even the guards aren't too bad, although one uses her a personal sex toy after doing his good deed.
Eh, what she doesn't know won't hurt her, right?
It was rather surprising to me that Piper hadn't kept track of Alex (her ex who got her into her mess) in the prison system before going in herself. It's pretty easy to find out where someone is and I would have wanted to be prepared no matter where I was going in the off chance we were to meet up. We don't know how their relationship ended, whether Alex ratted her out to get a lesser sentence, etc. Her scream indicated it wasn't a happy reunion.
I especially loved the little touches that Orange is the New Black focused on that most people don't know about, such as getting money into a commissary account to buy goods for use in prison. People really do go in with nothing if they have nobody to help them out. All it would take is one person to say the wrong thing - like bring the check with you on your day of surrender - to be without supplies for as long as it takes to get the money posted, and then for you to wait until the next day you're allowed to visit the commissary to get what you need.
There are so many things we take for granted just being free - how easy it is to get flip flops, hot water in the shower and the lack of fungus on the shower floor, just to name a few. I've seen a lot more movies and television shows about men in prison than I have women (I loved the nod to OZ in the premiere), so I'm looking forward to taking this trip with Piper. 
The plan is to do at least one episode a week, maybe more, so keep an eye out! I'll be honest. I'm itching to watch more, so if it becomes a binge, we'll let you know when to see the next episode will be posted. I'd really like to stay spoiler-free while I'm watching and reviewing, so please don't post any in the comments - the next episode will be up soon enough.
And remember to visit our ever-expanding section of Orange is the New Black quotes as we go!
Carissa Pavlica is the managing editor and a staff writer for TV Fanatic. Follow her on Twitter.