Ravenswood Spoilers: Nicole Gale Anderson Spills on Midseason Finale
Jim Halterman at .
Say it ain't so, Ravenswood!
Just as each week has been drawing us in more and more, it's already time for the mid-season finale? It's true but, don't despair because the silver lining is that the Pretty Little Liars spinoff will be back in January.
But while all our characters are going through their own journey, none compares to poor, dead Miranda, right? The last we saw of her, she was walking into some awfully white light that usually is a sign of some kind of heavenly space.
To get a solid tease for Ravenswood Season 1 Episode 5, I grilled Nicole Gale Anderson, about what she thought when she first found out her character was going to be dead, as well as what we can expect moving forward and whether she'll return to her role of Heather on Beauty and the Beast...
----------------------------------
----------------------------------
TV Fanatic: When I talked to you on set, you weren't sure how the Haleb fans were going to react to you but now that the show is off and running, what can you say about that?
Nicole Gale Anderson: The forbidden love, if you will, between Caleb and Miranda…it's something that we're developing but he's very respectful toward his relationship with Hannah. He doesn't do anything inappropriate, if you will. He's just very considerate of her and he's such a very loyal boyfriend.
There's just a lot that we've been through together. For Miranda, he's all that she has right now. He's really the only person that she can talk to and lean on at the end of the day, and he hears all the creepy things she's experiencing. Yeah, there's definitely a strong bond but still it continues on between them.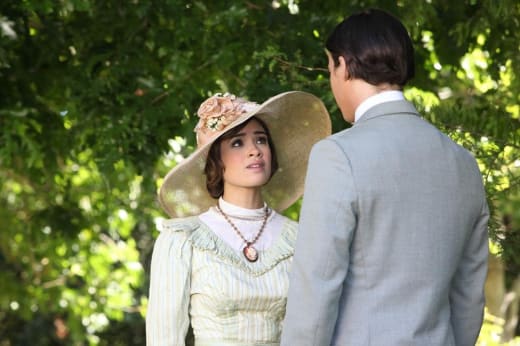 TVF: Also when I first talked to you, I didn't know you were going to die in the second episode! You're very good at keeping secrets.
NGA: [laughs] That was the one thing I was dying to tell everyone!
TVF: How did you take that news when you first heard that that's where they were going with the character?
NGA: I actually found out when I did the chemistry read with Tyler. So I knew before signing onto the show and I was excited but I was nervous at the same time because I was curious to see where they can take a ghost storywise and really build on it throughout an entire season of the show.
I think that they have just really done an amazing job in exploring things that Miranda can and cannot do and what it's really like to come back as a ghost and build this supernatural world around her. So, it's been a lot of fun, but yeah. I was kind of nervous.  When I first found out, one of my immediate questions was 'Wait, do I have to wear the same outfit for the whole show? Can I die in something super comfortable?'
TVF: In the last episode that aired, the last thing we saw was you kind of walking into this light and the door shutting. That made me very nervous. What are we seeing in this next episode?
NGA: She basically connects with a spirit that appears to be her mom [and] she meets a little girl named, Max, who is played by this adorable little actress, Isabel. It's kind of a spooky twist. Everything isn't as what it seems. So we're not exactly sure where Miranda went and the episode kind of follows the four characters, keeping together, but the mystery within the fog that Caleb brings them to and the clues that help them find Miranda, where she's gone.
TVF: Will we find out a little more about what Uncle Raymond is up to, because he's definitely up to something not so good, I think?
NGA: He's so creepy and playing the mysterious factor, but at the same time, we get to see a vulnerable side of him, especially in the last episode. He kind of has a little bit of a connection with him and Rochelle Matheson [Luke and Olivia's mother].
TVF: How's it been shooting all the scary scenes that you're doing? Is there a challenge there as an actor?
NGA: It was really hard at first. I remember the first, the very first episode that we shot and I had to react to that Edwardian ghost, ghouly, kind of decrepit, scary figure that kept popping in and out everywhere. I was like, 'Oh my gosh. It's going to be hard using my scared face!'
But we have a really awesome special effects team, especially in the third episode with all the séance stuff going on. A lot of it was our imagination, but the lights flickering and everything, it definitely helps and we get the fans going, the wind starts up and it creates this whole environment around us that helps out a lot. Yeah. It's been fun and challenging. I think we're all getting the hang of it finally on episode nine.
TVF: Is the line between life and death a lot fuzzier than we would think in the world of Ravenswood?
NGA: Yeah, you know, I actually had a really interesting conversation with one of the writers who said that Ravenswood, being the haunted, spooky town that it is and the spirits kind of trapped between two worlds, especially on the day of the funeral when Miranda died and being able to see Abby Wheeler. It's like the line between the spirit world and the real world is definitely fuzzy in Ravenswood and it definitely has to do with the past and why they are trapped there.
TVF: In this next episode, I know it's the mid-season finale so are we left with like a big cliffhanger kind of moment to keep us excited through January?
NGA: Oh yeah. Absolutely. I don't think it would be Joe, Marlene and Oliver's style to not leave on an 'Oh my God' moment. I can't say specifically what but it revolves around Caleb and it definitely leaves off on a 'Oh my gosh. Wait. Why you cannot leave off on that moment!' So I'm so excited to see the end.
TVF: Are we seeing you on Beauty and the Beast anymore?
NGA: I hope so. I only shot the first two that already aired. Once they go on break, I'm hoping we can work out the scheduling and they get me on sooner and hopefully work something out. So it's definitely open-ended with two productions going they still have line up. I do miss playing Heather though and I miss that whole Beauty And The Beast family.
Ravenswood Season 1 airs Tuesdays at 8 p.m. on ABC Family.
Jim Halterman is the West Coast Editor of TV Fanatic and the owner of JimHalterman.com. Follow him on Twitter.