At a dinner party on The Mindy Project Season 2 Episode 7, Mindy got stuck at the couples table while Danny chatted up a woman named Mary (Vanessa Bayer).
The former learned the reasoning behind her seat assignment was because her hosts think she is too picky when it comes to men.
When Danny says he agrees, our favorite doctor set out to prove him wrong.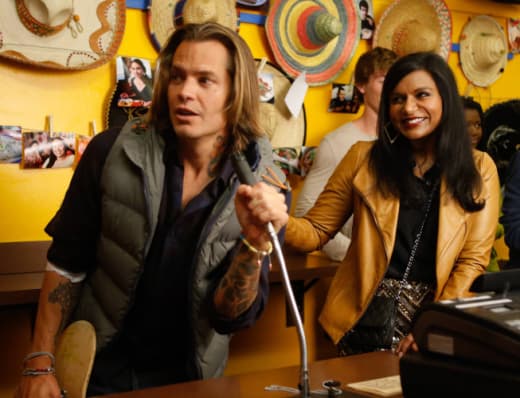 Enter Graham, a professional skateboarder played by Justified star Timothy Olyphant. Mindy's body was saying yes but her brain screamed hell no... yet after he rescued her phone from the subway tracks, she decided to give him a shot.
Meanwhile, at the practice, Jeremy got a visit from his father (Alan Dale) who immediately comments on his sons weight and takes a liking to Peter. The next day, Jeremy's bitterness toward his father got the better of him while giving a birthing class and Morgan was left to run the show. 
My name is Nurse Morgan. I'm here to name your babies.

Morgan
Despite looking like an inked up 40 year old Tim Riggins, Timothy Olyphant totally delivered as the insouciant X-Games entrepreneur. He also cleaned up quite nicely for Mindy at their double date and provided a great contrast in personalities with Danny.
I loved watching the two of them as they took  gibes at each other.
Whether or not her decision to go out with Graham was to prove Danny wrong, Mindy deserves credit for going outside her comfort zone. Mindy is never short on self deprecating comments, but she also never hesitates to stick up for herself like when took exception to Danny's comment about her having small breasts.
Jeremy finally seemed to be doing something about his weight, but couldn't help stress eating his way through the dinner with his father and Peter. I thought this episode was Adam Pally's best so far. He showed again how great his is with patients during the birthing class, but also what a loyal friend he can be when he told Jeremy his Baller-Status was solidified as far as he is concerned.
Bayer had me at her hummus comment. The Saturday Night Live regular could have easily overplayed her role as Mary, but I thought her performance was just as solid as Olyphant's.
Looking ahead to future episodes, I would love to see Peter take it upon himself to whip Jeremy back into shape. What else do you foresee happening in this season's remaining installments and do you think Mindy will find a new love before The Mindy Project Season 2 finale?