You have to love the irony that was shining brightly in Orange is the New Black Season 1 Episode 6. Just as Piper took responsibility for her crime, telling her mother that she was no different than anyone else in Litchfield, Healy turned that sentiment on it's head when he propelled her onto the Women's Advisory Council against anyone's wishes.
Things are going to get so ugly for Piper in prison.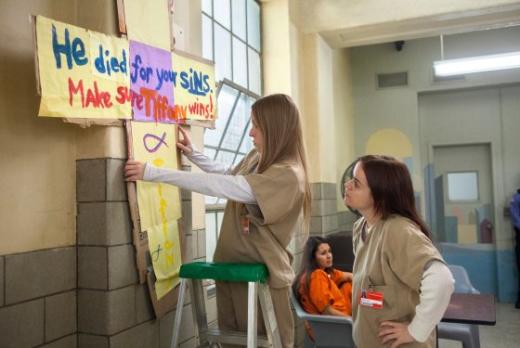 Every installment of Orange Is the New Black just gets better than the last. It's like peeling away the layers of something really lovely to start with only to discover it's just as pretty, and somewhat infinite, on the inside. 
The only thing I regret are the missed opportunities for some kick-ass quotes, because the language is so incredibly foul that the words don't bear repeating on our site. As a character, Polly finally came into her own during this hour and in doing so unleashed a potty mouth that would make a lady cringe. Thank goodness I ain't no lady! 
Larry's decision not to tell Piper about Alex in Orange Is the New Black Season 1 Episode 5 had a definite impact on her behavior. She desperately wants to get back into Alex's good graces, but Alex is making a concerted effort to keep Piper at arm's length. It's making Piper remember only the good things about Alex, and she even found solace sniffing Alex's pillow.
It was surprising to learn that Nicky came from a privileged upbringing, especially after the comments she made to Piper about her mother. They have a lot more in common than one would imagine. I suppose Nicky is another drug related inmate. They seem to be everywhere.
The reveal that Red is the woman responsible for Nicky being clean finally helped finish the puzzle as to why Nicky calls her mom. She did the one thing that her own mom couldn't do - she gave her a purpose and a reason to stop using. But she also treats her like a daughter in other ways, which means she didn't nominate her for the WAC. Moms aren't always on your side.
The mother/daughter reference continued with Daya and Aleida continuing their feud with an actual brawl in the yard. Bennett and Daya's affair rose to new heights despite the increased attention on inmate/officer relations thanks to the photo, and it was a relief to learn he didn't partake of mama's nakedness when she offered it. 
When Daya made a move to show Bennett how much it meant to her that he remained true, she discovered he had an artificial leg. She used her love of drawing Manga and feeling like an outsider to let him know that she didn't think he was a freak. She's not the smoothest cat in town, but she is sweet. Her mom, meanwhile, continued to be a bitch when her visitors had the nerve to ask after her daughter. She came off looking just like what she was.
As Big Boo and Crazy Eyes were doing things that these eyes never want to see again during the WAC campaigns, all of the inmates were in one place. That gave Piper the idea to spend some alone time in the bathroom. Her giddy moment of pleasure sitting on the toilet in silence was interrupted by a buzzing cell phone hidden in the wall behind her. 
That's where the nasty photo was taken, and it also put an end to her special time, which is a shame. Why? Because now that Healy forced the WAC position onto her without her consent and thereby turning her own "group" against her, she's going to wish she had someplace special to escape. 
Add to that the article that Larry has been tasked to write by his editor about "their" experience with her in prison, and you know people are going to be coming down hard on Piper inside the joint. Dear God, please don't let Larry toss anything about edging into the article as his editor recommended. It's going to be bad enough without the added disgusting reference for the other inmates to use against her. 
Scurrying along, the next episode should be up in a few days. Has anybody decided to re-watch or start if you hadn't watched already? If so, I bet you're done!
Carissa Pavlica is the managing editor and a staff writer for TV Fanatic. Follow her on Twitter.