Piper continues to learn lessons about prison life and what she discovers on Orange is the New Black Season 1 Episode 7 will probably come back to haunt her, but it felt like the first time she made any real progress while behind bars.
While Healy is still trying to pull the strings of Piper's confined life, at least now it makes a bit more sense. It's amazing how just one look into his home life can be so eye opening.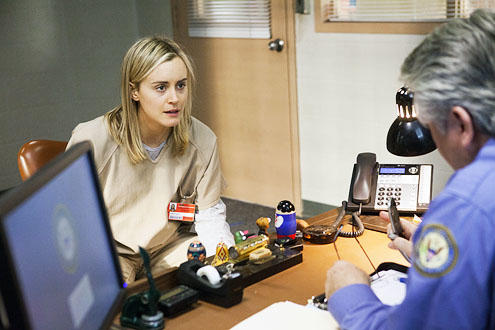 The first meeting of the WAC was held, and only Piper was taking it seriously. That's because she was the only green inmate of the group. I'm not really sure why Healy wanted her on the WAC, other than his belief that he could continue to manipulate her into doing his bidding. Of all the inmates in Litchfield, you'd think he would understand a well-educated on would catch on quickly to plan.
But -- no. Healy truly thought Piper would play along no matter how many times he pulled the rug out from under her. After she discovered the farce of the WAC, he tried offering up reopening the track in exchange for finding the offending cell phone he believed to be hiding in the prison. When she delivered that and he changed the terms again, she found another way to get what she wanted.
The female guard, Susan Fischer, who joined in Orange Is The New Black Season 1 Episode 6 knew Piper outside the prison walls, when she was a grocery store clerk. She told Piper the only difference between them was she never got caught for any of the crap she pulled. That's become a running theme on OITNB -- how easily any one of us could be thrust into the system. If you examine your life, it's true.
Piper planted the idea of opening the track in Fischer's ear and she took it to Caputo. Caputo will do anything to look better than Healy and he had no problem rubbing the cost savings into Healy's face. Caputo didn't mention Piper, but Healy isn't so stupid that he won't know she had something to do with getting it done. Will he become an enemy for Piper going forward? Will it matter if Piper learns who she can use against him?
Healy's desire to control inmates comes from his inability to control his women at home. He seems to have a Russian bride, who has her mother along for the ride. Eating dinner they carry on conversations he cannot understand, and you have to wonder if he understands much of what goes on in his personal life. It's obviously a sore spot that he takes out on the women he thinks won't fight back. He's just not very smart about women.
Piper was interested in reopening the track because Janae, the woman who got all uppity during the screwdriver incident and ended up in the SHU, returned to the general population. She was trying to atone for her guilt, and it didn't get past Janae.
Janae's story was a tough one. She was a track star in high school who had it all -- except the attention of guys that she do desperately wanted. Even a local thug had her back, telling her she was better than all of them and not to fall victim to partying and drugs when she could make it out. He even offered to buy her whatever she needed to succeed. But she thought she needed attention. 
She got it -- in the form of another thug, who taught her how to do armed robbery, but wasn't as fast as she was and wanted her to slow down as they made their escape, but turned and ran when she got caught. There is so much pressure on young girls to be pretty and loved, and here was a girl who had it all in front of her and gave it up for a creep. It was kind of heartbreaking. 
Seeing her running past Piper with a glorious smile on her face was worth the potential enemy Piper made in Healy. At least for that moment.
Other bits:
Alex still won't talk to Piper, but she did threaten to rape Pennsatucky if she didn't shut up about the WAC. Not the nicest thing to do, but it's the first thing she's done to show she still cares about Piper.
Larry whining about going out alone, as if he's been single for years, was ridiculous. Piper's been in for what, a month? He's telling a bartender his fiancee is in prison and he's going to be writing about it the NY Times. Oh waaaa. I like him less every time he's on screen.
It seemed obvious to me that Piper took the phone since she's always standing in front of that stall and Flores seems a tad pissed. Is she going to be a worse enemy than Healy over the incident?
Red and Pornstache seem to have quite a power struggle going on, and I can't quite determine what's happening there. What does he want her to smuggle in and why can't he do it himself? What am I missing? They obviously have cameras in the kitchen. Why doesn't she just turn him in? 
Did Yoga Jones kill a kid? That would be a damn good reason to go all yoga.
Taystee choosing a hair style for her parole hearing was funny, but that they consider how white they need to act to try to get out really wasn't. It was a relief to see there wasn't one white person on the parole board. The only parole hearing I ever witnessed was comprised of white people, and the inmate was white. Hmmm. 
I didn't miss the Dany/Bennett drama, but I missed having more Nicky scenes. Her mother could drop off the planet and I wouldn't care.
The lives of people in Piper's life outside the prison are far less interesting the longer she is in there. Not only do they seem superfluous to her story while she's inside, but when they are cutting themselves off from her after such a short time that her story isn't their story any longer. It's likely realistic for a man to behave in this fashion, while a woman would more likely cling to her incarcerated boyfriend and use it as a tool to gain sympathy. I don't know what Larry is looking for.
Now that we've been given some motivation for Healy's character, I'd like to see some for the other guards. While the outside lives of inmates seems irrelevant, the opposite is true of the guards because they bring whatever happens at home into the job with them every day. The ladies make for very convenient punching bags.
It would be interesting to spend a day in SHU. It would probably be a very somber episode, but if the experience is that dour, it seems like we should know what it's like. Kind of like some sort of immersion therapy. Sometimes OITNB seems like a comedy and sometimes a drama so it could be a more dramatic episode.
I'm pretty sure I'm going to burn through the rest of the episodes this week. Yay! Finally. I know. It's agonizing, isn't? It's like a good book, though. I don't want my time with these women to end!
Carissa Pavlica is the managing editor and a staff writer for TV Fanatic. Follow her on Twitter.