Chicago PD Review: Making the Choice
Nick McHatton at . Updated at .
Every choice has rewards and risks; a small moment of compassion can turn into a life changing moment. 
Chicago PD Season 1 Episode 4 offered up some big and small choices that a family makes alone and together.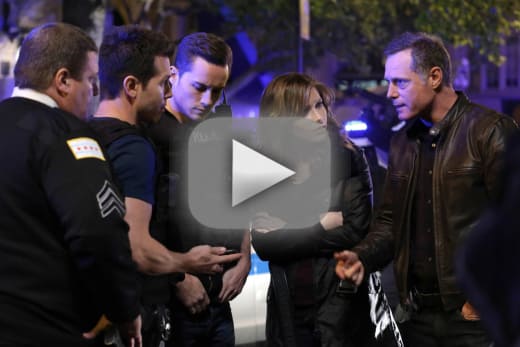 Voight's son, Justin, has a lot of issues going on with him. He's lashing out, trying to make out with Erin, and his time in prison may not have given him enough clarity and focus for self-evaluation.
He keeps looking to Voight to clean up his messes and be the man on whom he can blame everything. He's looking for "respect" and quick money from Voight. He's unwilling to start at the bottom and work hard to begin getting back into society.
Whatever caused Justin to make the choice of driving drunk is still sitting with him. Maybe it's his mother because her life insurance policy was mentioned this installment... or maybe it's Erin being part of their family. Either way, the DUI incident is a big part of Justin and Voight's lives and I hope Chicago PD Season 1 will explore it in more depth.
Erin crying in the car was difficult because it's not completely clear where she's coming from. I imagine Voight gave her the very same talk that she gives to Nadia: she can either go back to her drug-filled life or make a change for the better by going to rehab. Erin's decision has a big impact on her life and now she's paying it forward with Nadia.
The other option for Erin crying is the job. Some of the things she's witnessing are beginning to get to her. See a man shoot his face off is hard to get out of your head. It's just stressful all around. She's trying to live up to Voight's expectations and be the perfect image of a daughter.
Jay's obsession with the Rodiger family was also talked about: the father might be covering for his son molesting and murdering a little boy of a family that treats Jay like family. Jay is usually calm and collected, but this situation, with justice not being done, is really beginning to eat away at him.
If he can't find a way to control his temper, he might do something very rash. He's already parading his badge around so he can get away with harassing the family.
Atwater and Burgess finally had something more to do with the hoarding lady. The latter lead with her heart, getting burned when they find a little boy has been kept locked up in the basement.
Atwater thought her emotional choice meant she doesn't have what it takes to be a cop, so it's good that Burgess told her that she shouldn't be ashamed of doing so.
Will Jay do something he regrets with the Rodiger family?