Kids in high school know all about competition and pressure.
That's what makes it interesting for the parents to get a peek at their lives for a day.
Modern Family Season 5 Episode 12 fetured an open house at the high school for Luke, Manny and Alex. It turns out the parents might be even bigger troublemakers than the kids!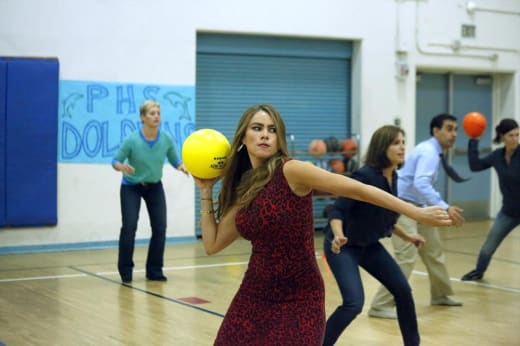 With an episode chock full of guest stars, we were in for a real treat of random pairings and hilarious interactions. When it comes to getting in trouble, Jay is at the top of the game. He's been out of high school the longest and definitely cares the least about teachers and their rules. I can't believe he brought a flask with him!
Phil, ever the boyscout, was mortified but totally fell for it when Jay told him to sniff the scotch and then had to take the blame when the teacher caught him.
It was even better when Jay rubbed it in. Busting into the teacher's lounge and sipping a single malt during classes? High school would've been more fun with Jay.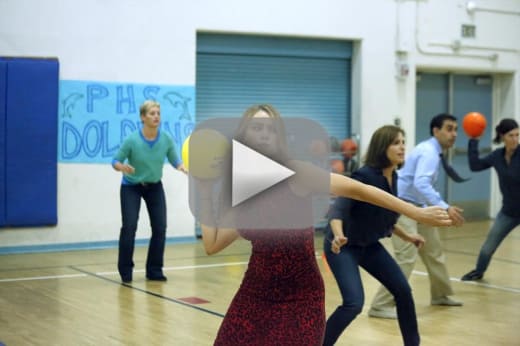 Claire couldn't believe the pressure Alex was under after the other parents didn't so much as blink when the teacher talked about how much homework she handed out. Ten years out of high school, I can confidently say that I didn't use the majority of what I learned back then.
It's pretty ridiculous for a kid to have six hours of homework after a full day of school. What about extracurriculars, hobbies or even a job?
Wow so intense. I had no idea the kind of pressure you were under. Hunnie, I was just you for two hours, I could barely hold it together. I don't know how you don't have a meltdown everyday.

Claire
I'm glad Claire gave Alex the props she deserved at the end. Alex may be the one putting all of the pressure on herself but that doesn't make it any easier to deal with. Even though there was no comedy in her therapy session with guest star John Benjamin Hickey, I still really enjoyed it.
Gloria and Jane Krakowski competing over the teacher was not uncommon, but their mean girl claws definitely came out. Even though Cam got in trouble, his dodgeball idea was still brilliant. It'd be amazing to see how competitive the parents of high schoolers got if they were allowed to let loose.
Lastly, I just wish Jesse Eisenberg had played against type. I feel like he gets pegged as kind of a douchey, know-it-all. The character of Asher wasn't doing his typecasting any favors. I loved watching MItchell, Haley and even Lily's one-liners, but that's about it. I wish he had done something funnier.
What did you think? Were the highly-touted guest stars up to par? Vote below and hit the comments!