Is Highway 65 Records setting up to be the next big thing?
If the clues in Nashville Season 2 Episode 13 are leading where they seem to be, Rayna's little start-up might soon be home to a number of the biggest acts in country music, while Edgehill could be left with very little.
For a while now, Highway 65 has just been Rayna attempting to break away from Edgehill and put out her record on her own label the way she wanted to, along with up-and-comer Scarlett O'Connor getting her name out there.
But with Juliette's fate at Edgehill now sealed because of her past - and her fans' inability to live rationally - I wouldn't be surprised to see her join up with her former rival to get creative at Highway 65.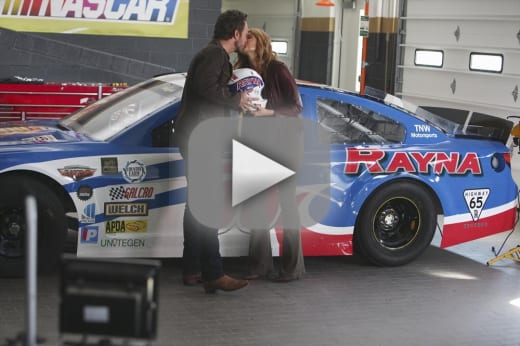 New boyfriend Luke Wheeler, who made a point to tell Jeff Fordham off for being an idiot, could very well be jumping ship as well... and where else would he go? Queen of Country Rayna Jaymes may very well be building an empire with this pet project of hers.
Rayna said it herself. She wants this to be a place where true artists can escape to so that they can get away from their problematic labels. It's a place for music to grow, and I don't see anything that would be more fun to watch grow than for Rayna and Juliette to be working together again.
If her music career doesn't make a turn towards Rayna - and it is all but over like she seems to think - at least Juliette is being honest with herself. In those final moments, professing to Avery that all she wants is him...that was pretty darn hot.
Much of "It's All Wrong, But It's All Right" was about being honest with yourself, as Scarlett and Layla also ran into those issues regarding their song writing.
Even though Deacon isn't happy about it - because he knows that the dude is bad news - Scarlett was working tirelessly with Liam to produce her record. Scratch that. Not tirelessly. She did yield to fatigue. She took some pills to get her through the process. We'll get to that in a second.
Liam working Scarlett over was easily some of the best stuff we've seen from the young starlet in a long time. He was pulling the emotions out of her, emotions she seemingly hadn't let anyone in on. These are deep seeded thoughts about her mother that have apparently haunted her for a while. It made for great interaction between artist and producer, and it will certainly make for a better album down the road.
Liam swiping the journal was pretty funny as well.
What wasn't all that funny is that as soon as she reached for those pills I could hear all of America letting out a big sigh, thinking really? Pill addiction to stay up to work? This storyline again? And for those of us who grew up in the early 90s, we were thinking, "I'm so excited, I'm so excited, I'm so scared."
Layla, meanwhile, had to get told straight up that she had absolutely nothing to say about anything. Gunnar shot her straight. I liked that. Hey girl, do you know anything about anything?
After thinking that Gunnar was a jerk at first, she realized that he was right. She was honest with herself and came to the conclusion that she had no idea how to even start to write a song. She went to back to the jerk to ask him for his help, and she was ready to learn. Maybe she can actually become an artist now, instead of a karaoke singer who came in second on a talent show.
Nashville Season 2 Episode 13 also gave us Juliette's awesome non-apology at the Opry, Deacon continuing to work on his new solo career and the who-cares plot moving forward as Teddy/Tandy/Lamar do a bunch of stuff that nobody cares about.
What did y'all think of the hour? What were your favorite moments? Anything that you didn't like? What was the musical highlight? And who do you think will make their way to Highway 65 next?
Dan Forcella is a TV Fanatic Staff Writer. Follow him on Twitter.