Pretty Little Liars Review: Jekyll and Hyde

Teresa Lopez at . Updated at .
After a game-changing reveal in the Halloween special, Pretty Little Liars returned to Rosewood in 2014, as the gals dealt with the aftermath of their discovery.
And for the first time in a long time, the show provided some dramatic tension and interesting character development without having to resort to revelations and surprises at the end of the hour.
Pretty Little Liars Season 4 Episode 14 really utilized the new dynamics created on Pretty Little Liars Season 4 Episode 12 and the Halloween installment. I'm feeling pretty optimistic about this season, aren't you?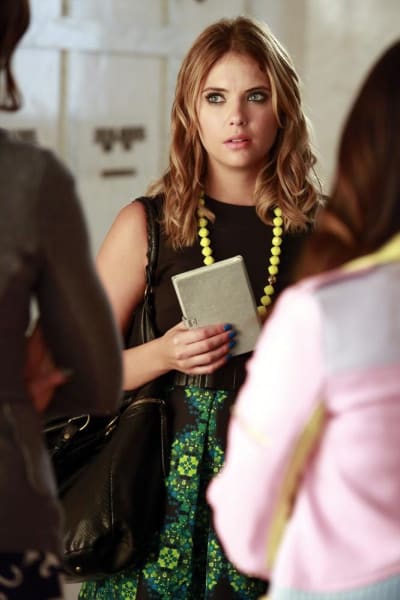 Now that all signs indicate that Ezra is A and possibly Alison's stalker/murderer, the show is free to punch up the creepiness of his character.
I've always been uncomfortable with Ezra's relationship with Aria, but it's reached new levels of inappropriate. When Ezra first appears, he's lecturing on Robert Louis Stevenson's The Strange Case of Dr. Jekyll and Mr. Hyde, which we should obviously take as symbolic for his character's progress in this season.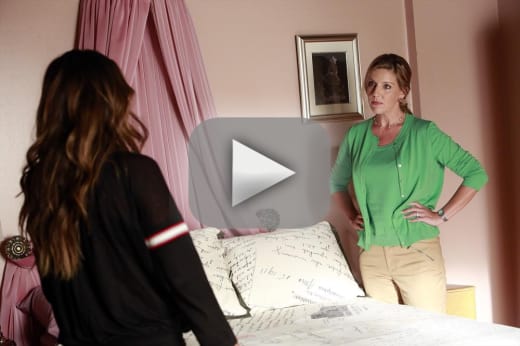 The quote he writes on the chalkboard - "you must suffer me to go my own dark way" - portends some ominous events in the future.
And we didn't have to wait long to watch his darkness unfold. Mona, picking up on the thematic similarity of his book choices (masks and secret identities), subtly confronts him with her suspicions. Then, Ezra finally puts some fear back in Mona. His calm delivery of his veiled threat sent shivers down my spine.
Even worse, he drove Aria out to that remote cabin in an effort to win her back. Was he completely successful? Sort of, but I wouldn't count Jake out yet.
The other major focus of this episode was the mystery of the mausoleum. If Ali wasn't murdered, then whose body is interred in there?!? Hanna's theory that another girl must have gone missing that weekend leads the girls to another group of friends missing their "Queen Bee."
What I liked about this thread was that it focused more on how Ali's re-appearance made the girls begin to question their loyalty to Ali than on finding the next secret.
When Sarah Harvey's friend Claire admits to Emily that Sarah was also controlling and manipulative (and that she wished Sarah was dead), it really made Emily re-examine her past relationship with Ali. Emily rightly points out that "Ali always liked games," but could she still be playing with them? Is she A?
The episode did also unfortunately feature the big Haleb drama we've been anticipating. The whole thing seemed less like a break up and more like a break, but Caleb was so upset to leave Hanna, especially because he couldn't really explain why. It was definitely the saddest part of the episode.
It also looks like we'll be seeing more Radley drama this season. What's Spencer's dad have against the sanitarium? And just what did Ali write about her friends her in journal?
Be sure to check out our interview with executive producer Joe Dougherty for some insight into the new season.
Executive Producer Joe Dougherty