There were a couple things that confused me on Being Human Season 4 Episode 6 - but the installment did change things up a bit.
I'm still shocked that Kat disappeared so quickly, yet it appears to have been done to bring Susanna back into the picture for Aidan. She's still a bit of a nutter, but she hasn't let on to Aidan exactly what she's been doing other thank killing vampires all these years.
So the poor bastard is being a little trusting.
Josh should have trusted his gut and told Nora immediately when he woke up naked with another chick the night after their change because it turns out not telling the truth and the potential of what you may be covering is a bigger deal breaker than your wolf getting it on with another wolf.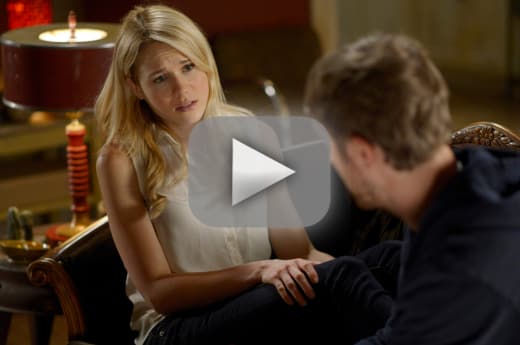 As if things weren't already stressful enough, guess what! Robbie wants to sell the house and Lil' Smokie, well, she wants blood. And she got it. There was a lot going on here people!
It never even occurred to me that Josh's wolf might be making decisions that Josh really wants to carry out as a human. It didn't occur to Josh, either. I think all of that "I'm so in tune with my wolf" crap is just bravado because he's scared to death of what he's become -- something no other wolf has ever been: truly half man/half wolf.
Nora is equally as frightened of what he's become and has been hiding it. She knows better than anyone how easy it is to lose yourself when you're a wolf. After all, she murdered her ex in cold blood. She would have never consciously made the decision, but she certainly didn't want to be held accountable for it, either.
So where do they draw the line? I'm sure they'll work it out, but with Josh's ability to kind of float between the two worlds now, changing at will, they'll have to figure it out sooner than they thought. Nora probably did things with the twins that she hasn't mentioned to Josh, and that's the most information on pack mentality they have to work with. 
It seems like Josh and Nora should stick with their own pack -- Aidan and Sally. They know their way around their family. The pack is much different territory.
Susanna seems so normal on the surface, that I can't be surprised that Aidan is suckered into being with her again. He wants to be in control and drink less and she soothes him. They were married. Once, centuries ago -- but still. The problem is she's hiding so much pain inside that "control." Aidan isn't smooth and it was very easy for him to slip. Will she flay him with her whip? Will Kenny ride in and save him? Sheesh.
Sally's story with the house made me wonder many things. Not only was it interesting to learn how much her brother hated Danny (in hindsight it was easy to do), but now that we see how Lil' Smokie works, what hand did she have in the catastrophe that became Sally's life and death? 
It seems that Sally's entire purpose has come to this point -- to rid the world of Lil' Smokie. Was Danny always a dick? What if he changed when they got to the house? It seemed like Robbie equated the house with darkness in some way. Now that they can talk about it, perhaps he'll tell her what he was really feeling. it would be really cool if they changed upon purchasing the house, because the house is almost it's own character in Being Human.
Now that Robbie has died inside it, I have to wonder why Josh never thought to look for him downstairs and how Aidan missed the smell of death or the water or something when he went downstairs to kill Red. His room is downstairs and that's where Robbie was electrocuted. That seemed off to me. (Update: after a second viewing I noticed Aidan wasn't home. Duh! That'll do it.)
I'm sure none of this will add up if we went back to look at it, but it would be really cool if Lil' Smokie was planned since the inception. You can find out when you watch Being Human online. Let me know if it ties together!
What surprised you most?
Carissa Pavlica is the managing editor and a staff writer for TV Fanatic. She's a member of the Broadcast Television Journalists Association (BTJA), enjoys mentoring writers, wine, and passionately discussing the nuances of television. Follow her on Twitter and email her here at TV Fanatic.