Drama abounded on Chicago Fire Season 2 Episode 14, with Kelly looking for answers and revenge, Dawson taking her final academy test,and Boden making a big decision about his love life.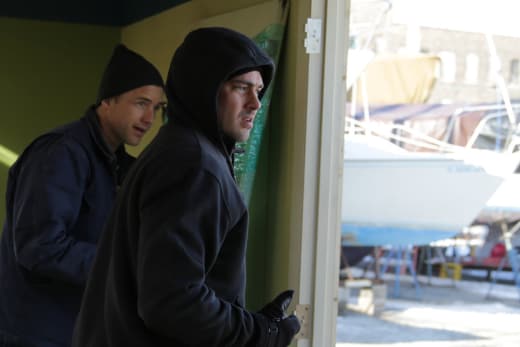 There's nothing better than watching Kelly on a mission. He's a big teddy bear, but once you're in his crosshairs it's all over.
Which is exactly what happend to Keeler's goons as Kelly made he way up the chain of command to find Katie. Unfortunately, for both Kelly and Otis, Katie had been beaten and raped.
It was a tragic end to her character's arc, but also understandable that she wanted to change her surroundings by moving to Colorado. Additionally, it's another loss of a family member for Kelly, as Otis ends up losing out on a relationship that was just beginning.
The end cap of such a tragic tale is not for Keeler to go to prison, but instead released since he has his hooks in criminals higher up the food chain. If Kelly holds restraint, I give him major credit. I'll also give him major adulation if he goes to strangle Keeler too; Keeler is just scum.
Dawson, for all of her attempts at passing, fell just short of the time after she helped Jones, hurting her foot in the final leg of the test. Jones' story and upbringing is sad, that female firefighters should only serve male firefighters, but that's still no reason to cheat. It only deepens bias and lessens the accomplishment.
Dawson is working hard to pass on her own merit, and it's good to see that Jones' father didn't pull any strings for her. I would rather Dawson continue her conflict with Jones as well.
The dichotomy it sets up between two firefighting worlds offers a new perspective on the job: the old, family business of firefighting with Jones - who will do whatever it takes to get in - and Dawson, who is resourceful, smart and working to get in on her own hard work.
At least Casey has finally told Dawson what's up. The little scare the doctor put in him might have finally lifted his haze of thinking he's perfectly all right. It's still not a perfect explanation for his personality changes at times, but it's a definite start.
Hopefully, Dawson will give Casey a piece of her mind when she's had time to process exactly what he's told her; it's good she told him that what they have is deeper that the job.
While Casey and Dawson are still on relatively stable relationship waters, Boden decides it is time to break things off with Donna after having a few good first dates with her. Boden's position, while I don't like it, is respectable.
It fits his character to be chivalrous to a fault and it, ironically, shows how much he's learned from his previous marriages. He's willing to break things off with Donna because he recognizes his own pattern of romancing women, yet not being able to keep that relationship strong through time.
Maybe Boden will repeat the mistakes of his past, but I tend to agree with Donna: let her decide.
Will Jones have what it takes to make it all the way?